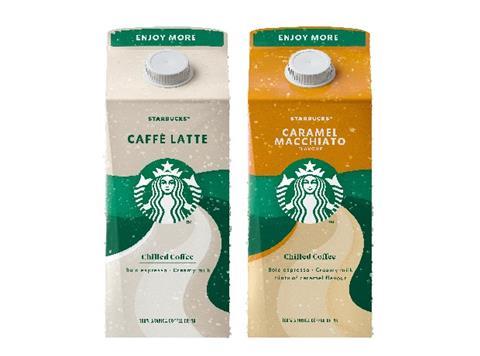 Starbucks has unveiled its new ready to drink Multiserve range.
The launch will see the Starbucks Multiserve Caffè Latte and Starbucks Multiserve Caramel Macchiato available in convenient, fully recyclable and ethically-sourced 750ml packs (rrp: £3.50).
The new additions have been launched to help retailers capitalise on the rapid growth of the RTD Coffee sub-category and the growing consumer desire to not only enjoy these drinks on the go, but in more informal and relaxed environments enabling them more time to savour the moment.
Senior commercial brand manager, Laura Scott, said: "The new Starbucks Multiserve variants respond to our consumers' evolving consumption habits. As a result of the pandemic consumers were increasingly looking for ways to enjoy traditionally 'on the go' products at home so it was important we responded appropriately.
"Offering both value and added convenience the two new 750ml Multiserve variants, a first for the brand, will allow consumers to pick up their favourite flavours to enjoy at home.
"As demand for RTD Coffee increases, Multiserve formats was the natural next step for Starbucks to ensure our category offer remains fresh and relevant."