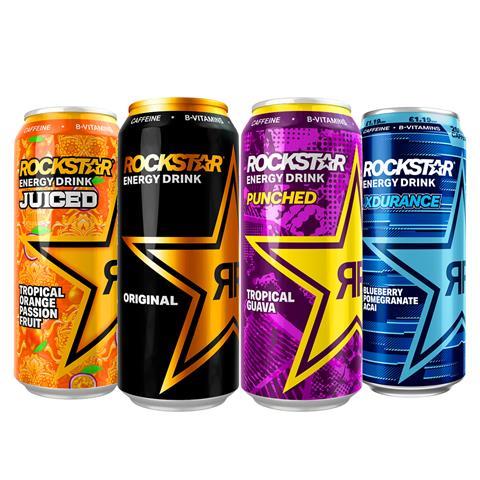 Rockstar is reducing the sugar content across its core range of energy drinks in March, making its six bestsellers compliant with the new HFSS legislation, with less than 4.5g of sugar per 100ml.
The rest of Rockstar's line-up already fall under the regulations, but the updated range will begin rolling out in mid-March in both plain and price-marked packs.
The flavours available include Original, Punched Tropical Guava, XDurance Blueberry Pomegranate Acai, Juiced El Mango, Juiced Tropical Punch, Juiced Tropical Orange Passion Fruit – alongside Original No Sugar and Punched Sour Bubbleburst, which already fall under the HFSS restrictions.
Phil Sanders, commercial director at Britvic, said: "When it comes to energy drinks, 44% of non-buyers state the reason they don't buy into the category is that they contain too much sugar. Through this move, we are aiming to encourage continued growth within the category by energising those health-conscious consumers and meeting even more energy needs.
"We want to show our support for convenience retailers of all store sizes by directly responding to the needs of their shoppers who can now enjoy lower-sugar versions of the drinks they know and love, without having to compromise on taste. In fact, maintaining the great Rockstar taste has been our priority in formulating these new liquids, with research showing that nine out of 10 shoppers say taste is the important consideration when buying a soft drink. Rockstar's 500ml formats are also well-placed to tap into retailers' optimism around the return of food and drink to go, with a third of retailers (36%) expecting sales to grow beyond their 2019 levels in 2022."