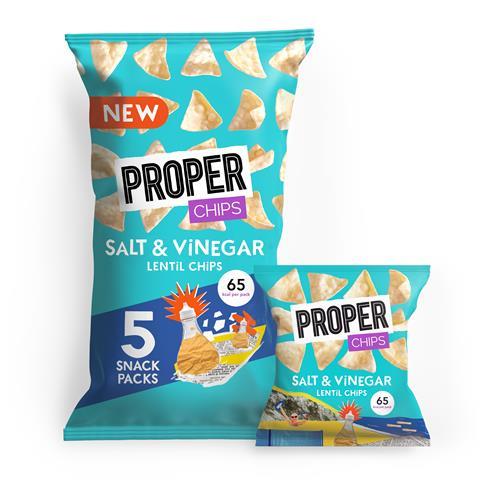 Proper Snacks has announced the launch of new multipack formats for two of Properchips' best-selling flavours, salt & vinegar and barbeque.
This comes after the successful launch of Propercorn multipacks.
Properchips was the brand's first venture outside of popcorn, using lentils as a base to create a healthier, better-for-you snack. The multipack bags come in at under 70 calories per pack and 30% less fat than other leading brands, as well as being vegan and gluten free.
Founder Cassandra Stavrou said: "PROPERCHIPS was a seriously exciting move for PROPER Snacks. It took us from the leading premium popcorn-maker to the biggest independent brand in better-for-you. The range has exceeded expectations with unprecedented demand.
With the launch of PROPERCHIPS multipacks, we continue to extend our snacking portfolio. As more people begin travelling and heading back to the office, healthier, on-the-go snacking options are in strong demand.
Taste remains the number one priority at PROPER Snacks. Launching in our two most popular flavours, we're proud to provide snackers with a healthier alternative to two classics they know and love."