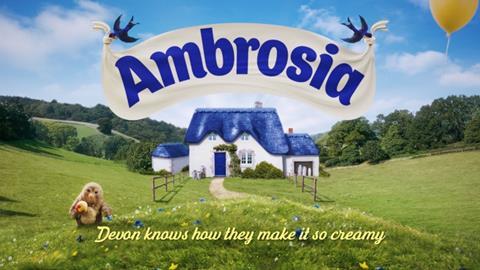 Premier Foods' Ambrosia brand is returning to TV screens for the first time in four years, as part of a multi-channel campaign worth £2.5m.
The TV advert launched on 1 December to drive awareness of the brand ahead of Christmas and will continue through the winter months.
The advert introduces a new character, Moley, to communicate how the brand can help to 'spread naturally simple pleasures'. The campaign will be supported by in-store materials, with limited-edition cans (400g) of Ambrosia Custard and Rice Pudding available with festive designs in the final run up to Christmas.
Brand director for desserts Daniel Jalalpour said: "We saw 1.3 million new shoppers turn to our dessert brands in response to the lockdown earlier this year, and that has in turn contributed to total growth of +16% in the ambient dessert category. Ambient brands such as Ambrosia offer shoppers appealing and tasty options, and this campaign will help to build on the brand's growing popularity and remain front of mind through a key time of year for the category.
"The new advert has been developed to showcase the deliciously creamy custard that Ambrosia is most well-known for, and seeks to position custard in a more modern way to help appeal to younger shoppers and those new to the category."