Philadelphia has added a new Lightest Herbs flavour to its Lightest range, aimed at consumers looking for healthier options within the category.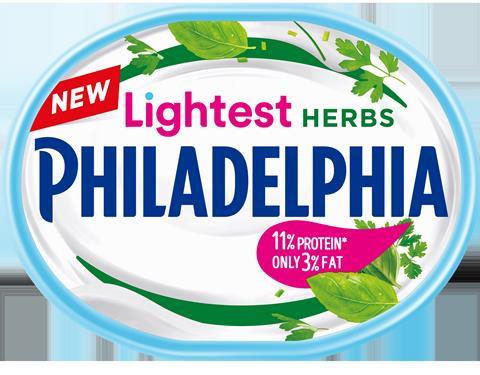 Available now, Philadelphia Lightest Herbs is aimed at capitalising on the success of Philadelphia Lightest Plain, which has seen sales growth of 10% year on year (Nielsen).
Philadelphia Lightest contains 11% protein and 3% fat and comes with a rrp of £1.99.
Paola Cassinelli, Philadelphia senior brand manager at Mondelēz International said: "We know that consumers are looking to lead healthier lives and focusing more on their wellbeing. Diet is a key part of this. By introducing Philadelphia Lightest Herbs we're offering shoppers all the benefits of our healthiest ever Philadelphia product, with a delicious new herbier flavour.
"Philadelphia's aim is to help drive positive, well-balanced and healthier diets with consumers. The launch of new Philadelphia Lightest Herbs will do just that".
The launch will be supported by a digital and social advertising plan that will target the key audience with "engaging and relevant content".