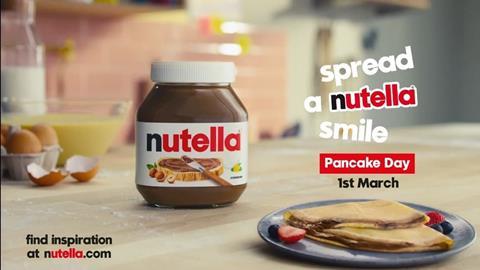 Ferrero is set to inspire shoppers this pancake day with a new Nutella TV campaign, 'spread a Nutella smile'.
The TV advert shows a family having fun together whilst making and flipping pancakes. It finishes with them topping their pancakes with Nutella and fruit, creating Grandad's face, aiming to demonstrate how Nutella can be enjoyed across the whole family on Pancake Day.
The campaign will run until 1 March being supported by digital and social activity, driving awareness of the brand and the occasion.
During Pancake Day 2021, Nutella sales grew 14% in value vs the year before, with Nutella 350g being the best-selling SKU, according to Nielson's total coverage 3W to 20.02.21.
Customer development director at Ferrero Levi Boorer said: "Pancake day is an unmissable occasion for the Nutella brand. It remains widely celebrated year after year across the UK, with people embracing traditional recipes and toppings, alongside trying new flavour combinations and experimenting with their creations. It also offers retailers the chance to drive sales of store cupboard essentials as well as those finishing touches. Our campaign will help drive awareness and keep Nutella front of mind for shoppers during a key sales opportunity."