Nescafé Azera is being relaunched and redesigned this summer with the introduction of a bagged version of its premiuim roasted ground coffee.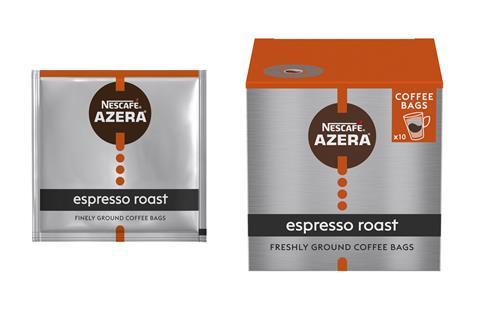 The new look and format are being supported by an £8m campaign, including TV and digital content, encouraging consumers to 'embrace their curious side and try something new'.
Since its launch in 2012, the Nescafé Azera range has continued to grow and now includes latte, americano, cappuccino, flat white and espresso blends as well as nitro and decaf variants.
This summer, the brand is launching a new coffee bag format. Available in espresso roast or americano blend, the bags are designed to make it easier for shoppers to prepare coffee at home.
Nescafé marketing manager Vasileios Karalis said: "The biggest barrier to people enjoying high quality roast and ground coffee at home is all the mechanical hassle and mess that comes with it, but with coffee bags, we've removed the obstacle. All you need do to enjoy fresh roast ground coffee is to pop the bag in your mug and add hot water.
"It's that simple. It's not an exaggeration to say we see our coffee bags as game changing as the tea bag was when it was introduced. We are delighted to bring fresh roast and ground coffee to our trend setting younger urban consumers."
The Nescafé Azera coffee bags are available in packs of 10 (rrp £2.99) and are certified by The Rainforest Alliance. The bags are also fully compostable and can be used to make cold brew coffee.