Irish chicken brand Moy Park has kicked off its 'Moy Park Marvellous Taste Tour', which will see the company travel across Northern Ireland and the Republic of Ireland this summer.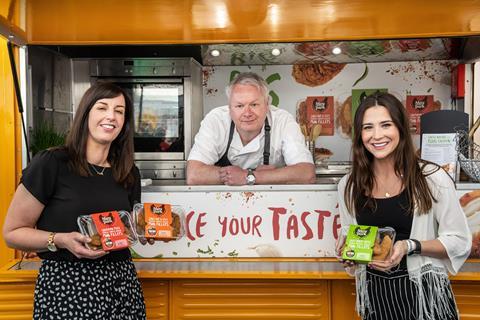 The road trip is designed to introduce the company's branded products to new customers – and showcase the merits of breaded chicken with recipes from chef Andy Rea.
Rea is Moy Park's first chef ambassador and is head chief and proprietor of Belfast Cookery School and the city's Mourne Seafood Bar.
Commenting on the initiative, he said: "I've really enjoyed working with Moy Park to develop recipes using breaded chicken. Not a typical ingredient for me, I was keen to show how families can use the products in a different, but quick and easy way in their own homes – without it being too 'chefy' – or using a lot of ingredients they wouldn't have or spend a lot of money on."
Estelle Robinson, commercial manager for Moy Park, added: "It is our mission to highlight the virtues of our branded breaded range - and in particular our breaded mini-fillet products, which are made with 100% chicken breast and coated in an innovatively created breadcrumb.
"Our npd team has developed a savoury crumb, which consumers are familiar with from restaurants - the proof really is in the tasting, which is why we are taking the brand on the road this summer, so consumers can see for themselves."
Throughout the summer, the 'Moy Park Marvellous Taste Tour' will visit a host of retailers, as well as events in Blanchardstown, Cork, Offaly and Waterford, including the Tullamore Show and Waterford Harvest Festival.
As well as sampling, Moy Park is also giving consumers the chance to win a Foodie Road Trip of their own, with an on-pack competition on its core Moy Park breaded mini fillet product range, goujons and nuggets.