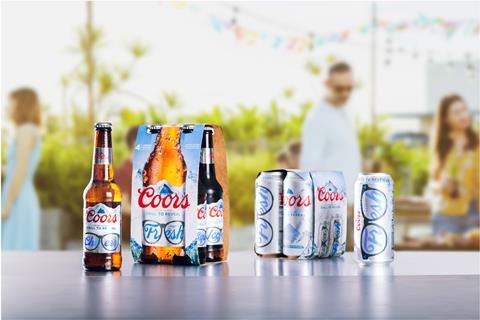 Molson Coors Beverage Company has launched new limited-edition packaging for Coors.
The new packaging uses thermochromic ink, which turns the mountain peaks on all Coors bottles and cans blue when the beer is cold enough to drink.
There arew seven new limited-edition chill-to-reveal designs, each with a hidden word that is revealed behind a pair of sunglasses across the full length of every bottle and can when the packs are chilled.
A nationwide OOH and social media campaign with a range of influencer partnerships will run throughout the summer alongside exciting in-store activation.
The limited-edition bottles and cans follow on from a multi-million pound rebrand of the product, which saw it renamed to Coors in 2021Lee Willett, brand director at Molson Coors, said: "The label that shows you when your beer is cold enough to drink is an iconic feature of the Coors brand, accentuating the mountain cold refreshment that underpins our lager, and the crisp and light flavour profile that people know and love. These limited-edition designs, which are available just this summer, bring this to life even more.
"Backed by a dedicated advertising campaign these new chill-to-reveal Coors packs are perfectly timed as we enter the sunniest months of the year. Using sunglasses and words like 'cool' and 'mates' in the design echoes the refreshing taste of Coors and those social occasions we all enjoy over the summer months - a mountain-cold beer in the warm sunshine with friends is one of those great simple pleasures and no lager is more readily associated with that level of refreshment than Coors."