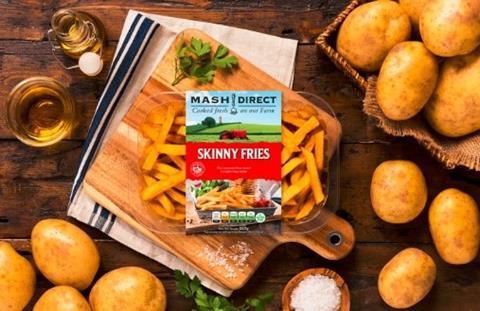 Mash Direct is launching Skinny Fries to its range.
The Skinny Fries (RRP £2.00 for 250g).product offers Mash Direct's home-grown potatoes thinly cut, coated in a light crispy batter and fried for a perfect texture. Oven-cooked in just 15 minutes from chilled, the product is gluten-free and also boasts three green traffic lights for being low in saturated fat, salt and sugar, meaning they're a healthier alternative to other ready-made fries on the market.
Lance Hamilton, chief commercial officer at Mash Direct, said: "Our Skinny Fries product has been a long time in the planning, and we are delighted to be kicking off 2022 with a brand-new SKU. Potatoes are at the heart of what we do at Mash Direct, and it's always exciting to launch a new iteration of our fabulous home-grown potatoes, especially when it's a classic such as Skinny Fries.
"We are always innovating to meet consumer demand, and offering our consumers quick and convenient solutions to satisfy the family at mealtimes."