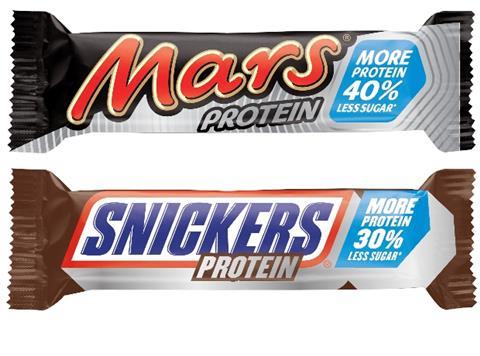 Mars Wrigley Confectionery UK has released its new protein bars into high street stores and forecourts, but the products won't be available to supermarkets until April.
Boasting 10g of added protein, the bars each contain less than 200 calories. Mars More Protein has 40% less sugar and Snickers More Protein contains less than 30% sugar when compared to the standard bars.
The new Mars protein bars contain 17.8g of sugar and 10g of protein while the new Snickers More Protein bar contains 14.1g of sugar and also 10g protein (rrp £1.29 each).
Mars general manager David Manzini said: "Protein remains a hot consumer trend and the category continues to grow every year. These exciting new innovations give retailers a great opportunity to boost those all-important impulse purchases by offering consumers the great taste of Mars and Snickers with added protein and less sugar than a standard bar."
Matt Boulter, portfolio director at Mars Wrigley Confectionery UK, added: "We are always looking to give consumers more choice and offer innovative new formats – watch this space for more new products within our portfolio this year."
The launch of the More bars will be supported by a three-stage partnership with the world's leading obstacle course, Tough Mudder.