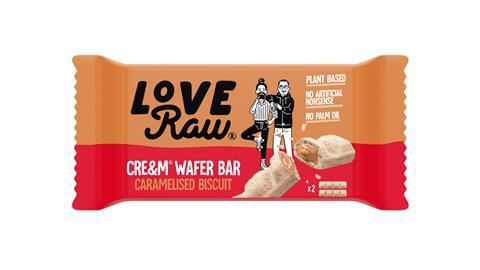 Plant-based chocolate brand LoveRaw has launched a Caramelised Biscuit Cre&m Wafer Bar.
The bars are filled with a biscuit cream with a caramel layer and biscuit crumb. Caramelised Biscuit Cre&m Wafer Bars (RRP £1.69) contain two individually wrapped plant-based and palm oil free wafer fingers and are available in selected Spar outlets, as well as Asda, Holland & Barrett and over 100 WHSmith travel stores. They will also be available in Simply Fresh and Harvest Energy from mid-August.
The new product follows the launch of the brand's Nutty Choc Balls, which bear more than a striking resemblance to Ferrero Rocher. Such was the popularity of the vegan treats that almost a quarter of a million Nutty Choc Balls few off the shelves in just three weeks, according to the brand.
Manav Thapar, co-founder at LoveRaw, said: "Our new Caramelised Biscuit Cre&m Wafer is an exciting addition to our wafer bar range, and will ultimately give those leading a vegan diet – and also those that don't – greater choice when it comes to indulgent snacks.
"The Caramelised Biscuit Cre&m Wafer is unlike anything else within the category and follows hot on the heels of our Nutty Choc Balls which have already been a huge success. Our mission is to create the best-tasting and most innovative plant-based chocolate products and the new wafer bar delivers on this. The quality and taste of LoveRaw is as good as, or better than, conventional chocolate."