Leerdammer is launching new fully recyclable packaging for its original and light cheese slices.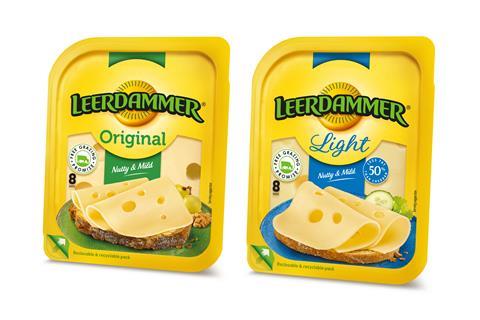 The new pack announcement builds on the brand's Free Grazing Promise and the recycling messaging will appear on the front and back of packs, with the official OPRL logo defining the product as 'widely recycled'.
Leerdammer claims the move is equivalent to 1.5 million plastic bottles being recycled per year and the new recyclable packs will also be made from 24% recycled materials.
Gaelle Vernet, group brand manager for Leerdammer, said: "For the modern consumer, it's not simply taste and price driving purchase decisions. With popular culture highlighting the environmental impact of the food industry, from animal welfare and food wastage, to recyclable packaging, the ethical consumer is looking for brands that go the extra mile.
"The launch of 100% recyclable packaging, alongside our Free Grazing Promise, further highlights our commitment to help consumers make informed purchase decisions, something we believe can add real value and differentiation to the highly commercialised cheese category. As we switch to 100% recyclable packaging across all Original and Light Slice Packs, a new pack design will also be rolled out for the brand, engineered to modernise and drive taste credentials, with additional windows to enable consumers to view the cheese."
Available to c-stores and independents, Leerdammer slices are sold in resealable packs of eight slices with an rrp of £1.75 each.