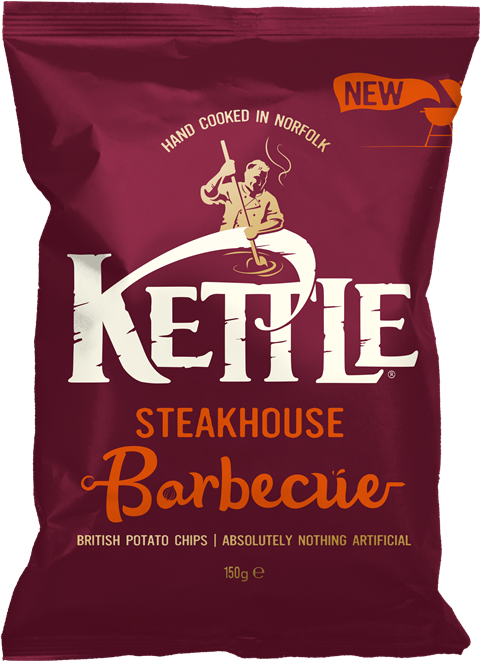 Kettle Chips has announced a new addition to its core range with the launch of Steakhouse Barbecue. This new variety will hit shelves in Spring 2021 (rrp £1.99) and follows the demand for barbecue flavoured crisps.
This new addition follows the success of a range of new product launches in 2020 for Kettle Chips, including Thai Sweet Chilli. The Steakhouse Barbecue launch follows the same effective model as Thai Sweet Chilli; featuring as part of Kettle Chips' James Martin Saturday Morning sponsorship with its own 10 second ident and supported by a strong social, PR and shopper marketing campaign.
Marketing director at Kettle Foods Louise Thompson said: "Our latest product launch, Steakhouse Barbecue, reflects consumer demand for authentic, BBQ flavours, featuring real meat ingredients which are currently under-represented in the premium crisp category. The pairing of meat and iconic barbecue flavours is renowned and we're incredibly proud to introduce this SKU to the BBQ snacking category - currently the only one to feature real meat ingredients across premium brands.
"After our incredibly successful launch of Thai Sweet Chili in 2020, along with our Tastes of Britain sub-range trio, we're sure that consumers will be delighted with the intense and mouth-watering seasoning of Steakhouse Barbecue. We're confident that in just one bite these crisps will transport consumers back to memories of long summer evenings enjoying a barbecue with friends and family."