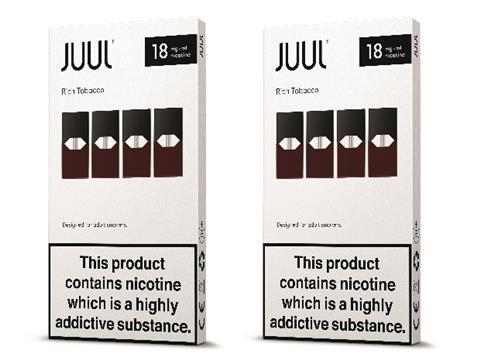 Juul Labs has added a new tobacco flavour to its JUULpods range in order to offer adult UK smokers a wider range of alternatives to combustible cigarettes.
Rich Tobacco JUULpods, which replicate the taste profile of Virginia tobacco, will be available in 18mg/ml nicotine strength from 6 August in a four-pack (rrp £10.99). The new flavour will be the first launched in newly updated JUULpods branding, featuring redesigned packaging and graphics, which will be rolled out across the JUULpods range over the coming months.
Juul Labs UK sales director John Patterson said: "Juul Labs' focus is to provide adult smokers with an alternative to combustible cigarettes and combating underage use of our products. Smoking related diseases are responsible for almost 96,000 deaths in the UK annually and smokers should first and foremost try and give up combustible cigarettes entirely – those who have not successfully quit should completely switch to potentially less harmful alternative nicotine products."
In the UK, Virginia tobacco blends account for over 90% of factory-made cigarettes sold (IRI). Although annual UK smoking prevalence rates continue to decline, Patterson noted there are still 6.9 million smokers nationally and said the introduction of further alternatives may offer adult smokers more options to transition away from combustible cigarettes.
"We welcome the continued decline of UK smoking rates. Juul Labs and the vaping category exist to help end the era of combustible cigarettes. As smoking remains the leading cause of preventable death around the world - and responsible for one death every six minutes in the UK - this goal is critical, and vaping products can play a pivotal role in achieving it."
As part of Juul Labs' commitment to responsible retailing, the company is continuing to invest in its 'Challenge 25' age verification policy, providing retailer training, alongside mystery shopping audits.