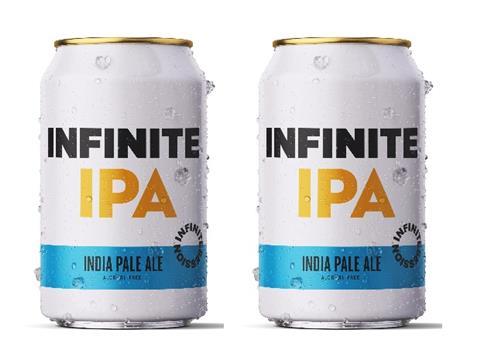 Infinite Session has launched a revised recipe for its alcohol-free craft beer range.
Rolling out across the three-strong strong portfolio, the new recipe offers a fresh new taste profile. By using an improved speciality malt selection, Infinite has created a beer described as having a better body, a fuller mouthfeel and a more complex flavour. By using a lighter filtration process during the brewing process less body is lost and the beer retains 'haze' which results in a more hoppy flavour.
The on-pack design has also been refreshed and sees the brand focus on 'Infinite' with the aim of simplifying the product names to "increase recognition and recall".
Co-founder Chris Hannaway said: "We pride ourselves in creating great tasting alcohol-free beer, that brings you the same level of flavour and craftsmanship as our alcoholic counterparts. We've always wanted Infinite to be a beer that you'd actually want to order another one of, and we're really pleased with the new taste profile of the range.
"Our on pack re-fresh allows us to put more emphasis on 'Infinite', meaning it's something you can drink again and again."
Infinite has created a series of new taglines including 'you'll want another' and 'actually tastes like beer' to help support the brand positioning.