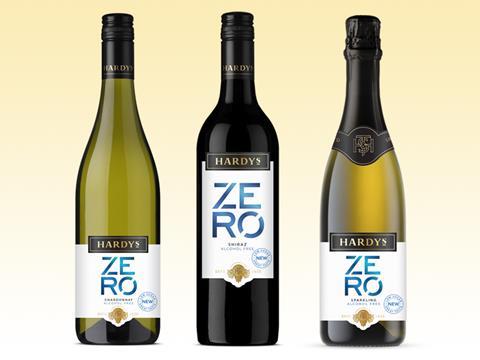 Hardys has launched Hardys Zero, a new non-alcoholic range that utilises de-alcoholising technology. Available in three varieties - Shiraz, Chardonnay and Sparkling - Hardys Zero aims to make wine accessible and enjoyable for all. Hardys Zero is available from June across grocery (RSP: £5.50), convenience, wholesale and on-trade.
The de-alcoholising technology, Zero Tech X, is described as a gentler process to remove alcohol and allows Hardys Zero wines retain more of the aroma, body and flavour of full-strength wine and require less sugary additives versus traditional de-alcoholising techniques.
Hardys is supporting the launch of Zero y with a through-the-line marketing campaign, focusing on driving awareness and trial, predominantly through digital and in-store activations. Premium displays and point of sale material will drive stand out in store, encouraging consumers to trial and explore this range.
Tom Smith, marketing director – Europe, Accolade Wines, said: "Historically, non-alcoholic wine has suffered from negative taste and quality perceptions – Hardys Zero is set to change all that.
"Hardys Zero is perfect for those everyday non-alcoholic occasions or for those looking to moderate their wine intake, without compromising on taste or quality. While younger adults are more likely to be regular consumers of low/no alcohol products, we're expecting Hardys Zero to perform well with shoppers aged 45+."