UK halal brand Humza is launching 11 new chilled skus into national retail, to expand its offering to target families.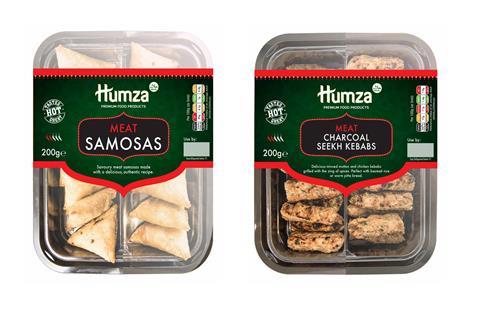 The fresh, ready to eat lines are sold in 200g packs (rrp £2.49) and includes samosas, kebabs and chicken slices. The introduction of the new products means Humza now offers 16 chilled lines (see below).
The brand's new range is made using select cuts of halal meat, blended with spices and herbs to create a home-cooked taste. The Humza range, including the latest chilled launches, are available to independent retailers via the group's online catalogue.
Commenting on the new lines, Harry Dulai, md for brand owner Flying Trade Group, said: "Due to the enormous success of our frozen lines we are now expanding rapidly into the chilled sector with all the major retailers.
"The UK market has had to rely heavily on scratch cooking to guarantee the provenance of meat in popular everyday items like samosas and pizza. However, the enormous success of our brand, double digit growth in the last year alone, is evidence that consumers are on the look-out for premium quality, convenient, halal food."
Dulai added: "Half of the UK's Muslim population is under the age of 25 and young markets love and demand convenience in line with busy modern lives. As such this is just the tip of the iceberg and we will continue to expand our offering of convenient frozen and chilled food products to give Muslim consumers greater choice, without compromising on faith."
Humza Chilled Product List
Chicken Charcoal Kebabs
Meat Charcoal Kebabs
Chicken Samosas
Meat Samosas
Vegetable Samosas
Hot n Spicy Chicken Strips
Southern Fried Chicken Strips
Chicken Punjabi Samosas
Meat Punjabi Samosas
Marinated Chicken Tikka
Piri Piri Chicken Strips
Piri Piri Chicken Wings
Chicken Tikka Slices
Piri Piri Chicken Slices
Tandoori Chicken Slices
Lemon and Herb Slices