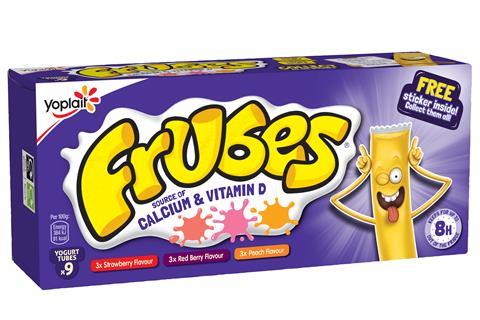 Frubes has launched new gift-in-pack promotion, hitting shelves as children return to school after the Christmas break.
Each multipack SKU includes a free Frubes sticker to inspire kids and families with healthier snack alternatives to fit in to their daily routine. With 12 different stickers to collect, the promotion encourages kids to have laugh-out-loud fun while enjoying the goodness of a dairy snack.
To support the promotion and drive sales in the Return to School period, Frubes has launched a campaign that includes TV, video-on-demand, YouTube, online videos on gaming platforms, in-store marketing and influencer activity that is expected to reach 2.9m people.
Marketing director at Yoplait UK Lindsay Hill said: "Frubes is a healthier snack alternative that is popular with kids and easily incorporated into daily routines. The addition of a new gift-in-pack promotion adds another layer of fun and play to Frubes that connects with children and inspires parents.
"Our new ATL campaign will support Frubes during the Return to School period, with fresh activity across a range of popular home media channels, including TV, YouTube, and gaming. With parents finding new ways to fill their children's time, these channels have experienced spikes in consumption and are great consumer touchpoints for reaching key audiences."