Snack brand Forest Feast has launched a range of super fruit shapes designed to appeal to children.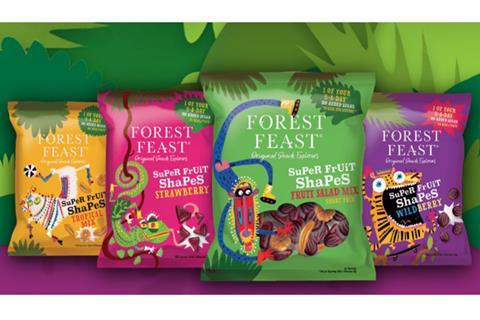 Available in 30g pouches (rrp 90p), the snacks come in three flavours: strawberry; wildberry; and tropical mix. Forest Feast has also introduced a fruit salad flavoured 100g sharing pack (rrp £2) for those looking for a sweet treat for bigger occasions.
All products in the range are available to Budgens and Londis stores now and count as one of your 5-a-day.
Bronagh Clarke, marketing director for Forest Feast, said: "We know that many kids struggle to get their daily intake of fruit and vegetabels, so we wanted to create an all-natural healthy snack that kids will enjoy and want to eat. We also wanted to provide kids with fuel they need to have the energy to enjoy playing with family and friends and to go wild outside.
"The Super Fruit Shapes range has been created to meet this need – for kids who want something fun and tasty and for parents who want to give their children healthy snacks that fuel their active lifestyles and outdoor adventures.
"Like other fruit, a portion counts as one of your five a day, as well as being high in fibre and Vitamin C. They have no added sugar, are vegan, and are free from nuts, dairy, wheat, gluten so they are also perfect for lunchboxes," Clarke added.