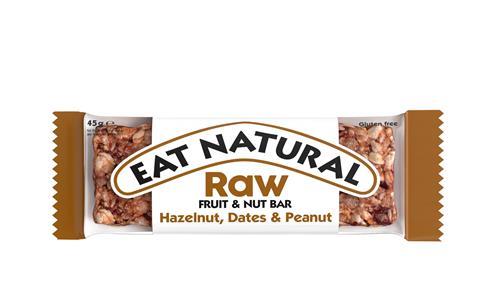 Eat Natural is to launch a new snack bar range.
Sitting alongside the wider Eat Natural portfolio, the new gluten-free Raw bars will come in three varieties: Hazelnut, Dates & Peanut; Peanut, Almond & Cocoa and Almond, Cranberries & Pomegranate.
The new range uses white packaging with large transparent windows to allow consumers to see the product and are available as 45g single bars (RRP £1.25).
Lucia Gimson, brand manager at Eat Natural, said: "At Eat Natural, we are always experimenting with new and exciting flavour combinations. We know that consumers are looking for alternative snack options and these three bars are perfect for those who want to savour snacks that contain delicious ingredients. The bars offer an appetising medley of fruit and nuts and caters to the growing number of consumers looking for new and exciting snack alternatives. They are also HFSS compliant so these bars can be found at checkouts."