Eat Natural is increasing distribution of its Simply Vegan and Fibre Packed snack bars with listings in Londis, Budgens and Booker Wholesale.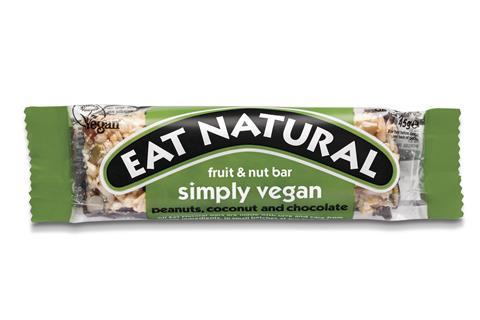 The brand's vegan bar contains peanuts, coconut netar and dark chocolate plus a mix of pumpkin seeds, dried apricots, roasted chickpeas, and sunflower seeds. The product is gluten free and sold in singles (rrp 90p / 45g) or multipacks (rrp £2 / 3 x 45g).
Designed to cater for health conscious consumers, Eat Natural's Fibre Packed range is packed with around 3.1g of natural fibre per portion and is made with figs, dried apricots, coconut, almonds and peanuts (rrp £2 per multipack of three).
The brand's co-founder Praveen Vijh claimed that the bars are Eat Natural's most delicious. He said: "Fibre is the new protein and we all need to up our daily fibre intake naturally in order to keep our insides happy and healthy. The gut plays a big role in our overall health, so eating more fibre-containing foods has huge benefits."