Duerr's is innovating with its new jam and marmalade selection which features unique packaging designed by Manchester artists.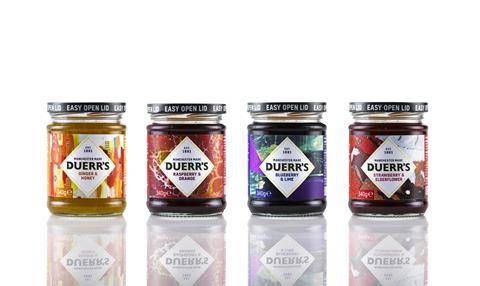 The new marmalades are made with Seville orange and come in four variants: thick cut (340g); fine cut (340g); half sugar (300g); and Manchester marmalade (340g) (rrp £1.39 each).
Duerr's new jams are also available in four flavours: blueberry & lime; strawberry & elderflower; raspberry & orange and ginger & honey, and are sold in a 340g format (rrp £1.99 each).
All of the company's new jams and marmalades feature a label design crafted by artists with a connection to Manchester, where all of Duerr's preserves have been made since 1881. The new jars are also suitable for vegetarians, vegans and coeliacs.
Richard Duerr, sales and marketing director at F. Duerr & Sons, said: 'We pride ourselves on making delicious jams and marmalades which are full of flavour, in the city we love. So, in celebration of Manchester's vibrancy and creativity, we have collaborated with local artists on the development of our new packaging to introduce a standout range of preserves to shelves.
"Our newly designed jars and unique flavour combinations provide us with a strong opportunity to increase sales across a broad age range with engaging and exciting products in what is typically a traditional category.''
The launch of Duerr's artists jams and marmalades is being supported by a dedicated marketing campaign.