Danone has introduced a new yogurt range using only recognisable ingredients – milk, live cultures and a fruit layer – and containing no added sugar, artificial sweeteners or artificial flavours.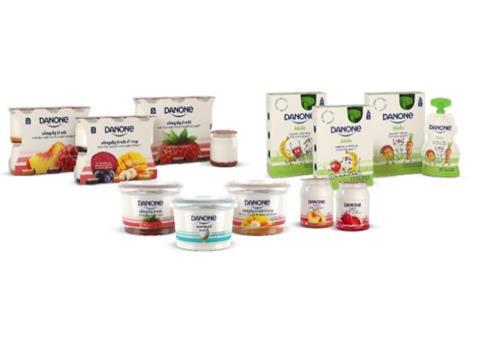 The family-focused line-up is available now and features simple flavour combinations including strawberry & blood orange, peach & ginger and blueberry, blackcurrant & beetroot.
Products include: single-serve pots (145g, rrp £1); family sharing pots (450g, rrp £2); multipacks (6x110g, rrp £3.50); and organic kids' pouches (4x70g, rrp £2.29).
All pots and cardboard used in the new range are 100% recyclable and Danone has partnered with TerraCycle to recycle the kids' pouches. The company's eco ethos was recognised by certification as a B Corporation in 2017.
Danone general manager Adam Grant said: "For Danone, doing good is about more than just making delicious yogurts with no added sugar. It's about doing our bit for families, our communities and our planet. That's why our new range focuses on 'Simply What Matters' and caters for all the important daily family moments, which we know help to build sustainable eating habits. It's also why all our pots and cardboard are 100% recyclable.