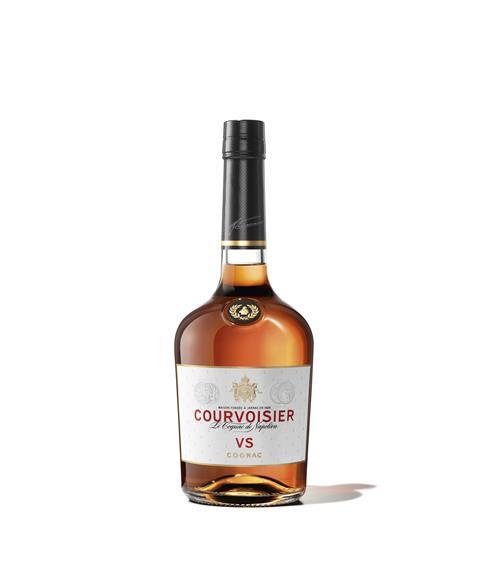 Cognac house Maison Courvoisier has unveiled a new bottle design which harks back to the 1800s.
Managing director Jon Potter explained: "This is an exciting time for our Maison, as we go back to our roots and embrace what Courvoisier was founded on by Félix Courvoisier. From our home in Jarnac to our portfolio of beautiful, floral cognacs, our house believes in being welcoming to all."
Courvoisier also announced the retirement of its sixth chief blender, Patrice Pinet, and the transition to his successor, Thibaut Hontanx, who was previously master distiller.
Hontanx said: "It is a true privilege to continue to make the dream of Maison Courvoisier a reality. As newly appointed caretaker of our exceptional range of cognacs, I will continue to embrace the Maison's commitment to community. As each drop of our cognac is a collective effort, from our vine growers to our distillers, we value our close-knit group of artisans in Jarnac."
Yinka Ilori, the London-based artist, has been selected as Courvoisier's 'Ambassador of joy' as part of a new global partnership.
Ilori has created 'We Found Joy', an immersive experience which brings summer in Courvoisier's home of Jarnac, France, to life. It will kick off in New York City on 3 March and travel to cities worldwide later in the year.
Ilori said: "For me, the essence of joy is through the use of colour. It makes people smile, it brings people together and delivers a natural sense of conviviality. Like Courvoisier, each piece of my work is inspired by community, a celebration of the fabric of collective energy. I am delighted to be appointed global Ambassador of Joy for Maison Courvoisier and look forward to introducing the world to 'We Found Joy', a physical manifestation of a warm summer's day in Jarnac, France."
He stands alongside other creatives such as actress, writer, producer and director Rashida Jones, Michelin star Chef Vladimir Mukhin, award-winning jazz musician Moses Boyd, and fashion and beauty photographer Betina du Toit, who each will help bring the multi-sensory experience to life through their respective mediums.
They will also showcased in a compilation of films which capture each individual's interpretation of joy titled 'Welcome to Maison Courvoisier' released today on Courvoisier.com, and social channels.