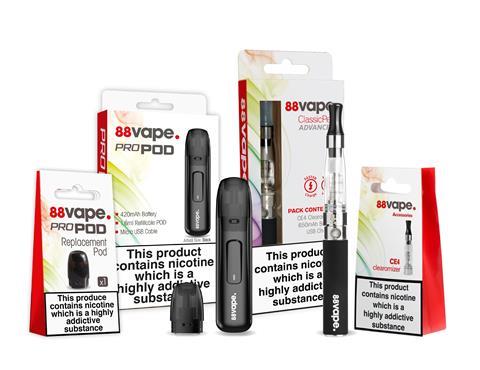 Field sales and distribution partner for 88vape, Core Group, has launched new deals exclusively for independent convenience retailers and forecourts.
As an introductory offer, independent convenience retailers can order 120 bottles of 88vape e-liquid worth £120 at MRRP for £30 (ex VAT), giving a 400% POR. Retailers will also receive an 88vape countertop Perspex display unit and full POS kit (A3 counter mat, A3 and A2 posters and an A5 counter talker) free of charge to highlight the 88vape brand's availability in store.
Core's second exclusive package enables retailers to offer 88vape vaping hardware. For £38 (ex VAT), customers receive 6x 88vape Advanced Classic Vapourizer Black, 10x 88vape Ce4 Clear, 2x 88vape Pro Pod Kits and 10x 88vape Pro Pod Replacement. Retailers will also receive an 88vape display board to help increase the brand's instore visibility. Retailers can sell these pieces of hardware at 60% POR.
As a bonus offer, customers can buy the e-liquid and hardware offers together for a total of £68 (ex VAT), and Core will add 10 bottles of 88Vape Menthol Chill 6mg 10ml and 10 bottles of 88Vape Menthol Chill 11mg 10ml, worth £20 at MRRP, free of charge.