To celebrate its 200 year heritage in the UK, Colman's has unveiled a packaging update set to highlight its use of locally-sourced ingredients.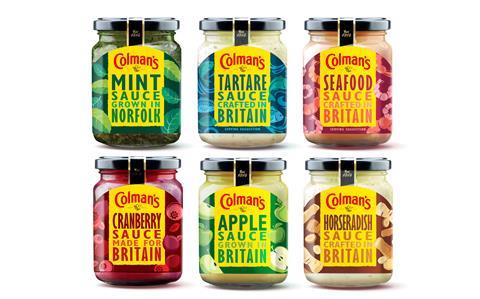 The brand refresh taps into the growing trend for provenance and buying British as consumers become more conscious about where their food comes from (Research by Simon-Kucher & Partners, 2019).
Colman's works with British farmers to source all of the mint and mustard used in its products and the fact that these ingredients are grown and harvested in the UK is highlighted on the updated packaging.
In addition, the brand has also made changes to its dry sauces and meal makers, revamping the packaging with a colour-coded design aimed at helping shoppers navigate by meal and recipe type.
Fikerte Woldegiorgis, marketing director for savoury at brand owner Unilever UK & Ireland, said: "We are the market leaders in condiments and meal makers and have been at the heart of British meal times for over 200 years. We've decided to undergo a brand refresh to highlight our long-standing heritage and shout about our support for the British farming industry.
"With provenance and authenticity high on the agenda (Nutrition and Health 2019), we are continuing to source as many of our ingredients from the UK as possible – and we want those that love Colman's to know this. Our packaging refresh will remind loyal shoppers what we stand for and in turn, attract new consumers to the brand."
The launch of the refreshed products will be supported by a £1m investment, designed to strengthen Colman's position in the condiments, dry packet mix and meal maker categories.
Available to c-stores across the UK, Colman's condiments come in 150g jars (rrp £1) while its dry sauces and meal makers are sold in 30 - 50g packets (rrp 70p).