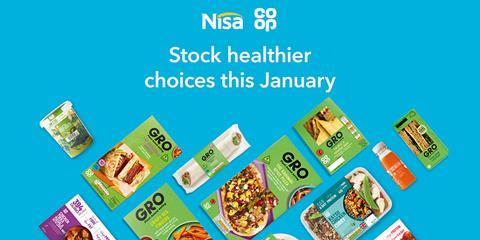 Co-op and Nisa stores now have access to the expanded GRO range of plant-based products.
The new GRO products have been available to tie in with Veganuary.
The plant-based range has been expanded by seven skus, that Co-op says "present the ideal solution to consumers embarking on healthier lifestyles as part of new year resolutions".
GRO products are available in a wide range of categories including Food To Go and Snacking, Pastry and Meat Alternatives, Ready Meals, Desserts and Sauces as well as Frozen. The new range includes the No Beef Pie, Fishless Fillet and Chips and Gunpowder Potato Masala.
Jonny Lambert, wholesale category lead for Co-op said: "Meat alternatives and ready meals are amongst the most popular vegan products that shoppers try during January so Nisa partners can win customers this winter by including GRO products in their store range.
"The bold, eye-catching packaging makes GRO products easy to spot in store and the imaginative recipes will keep shoppers coming back for more."