Following the launch of its plastic-free, unbleached and non-GM tea bag last year, Clipper Teas has created a fully recyclable tea bag envelope and 100% organic string for its string and tag tea bags.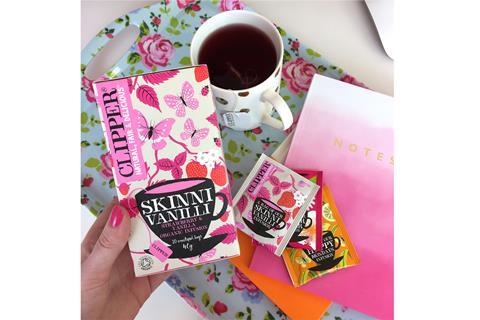 Brand owner Wessanen UK has recently completed extended trials of the new envelope material, which will be rolled out across Clipper's entire enveloped range throughout this year.
The greener material is made out of paper with a thin heat seal coating. It can be put into home paper recycling and is 33% lighter than the brand's previous tea bags.
Rebecca Vercoe, Clipper Teas brand controller at Wessanen UK, commented: "With natural, fair and delicious at the heart of what we do, we want to show consumers how they can make every cup count by choosing Clipper. Since we launched our plastic-free, unbleached and non-GM tea bags six months ago, we've been determined to keep up the momentum and make our tea even better for the environment. We're delighted with the new sustainable solution for our enveloped range and can't wait for it to roll out this year."
Cristina Ramsay, technical and CSR director at Wessanen UK, added: "Reducing our packaging weight and increasing our recyclability is a big priority for our brands and the Clipper Teas team in Dorset have worked tirelessly on developing a more sustainable packaging solution for the brand's enveloped range. We remain firmly committed in our mission as a business to be better connected to nature."