Kerry Foods has announced the launch of Cheeshapes Quirkies, the new name for Cheeshapes Randoms.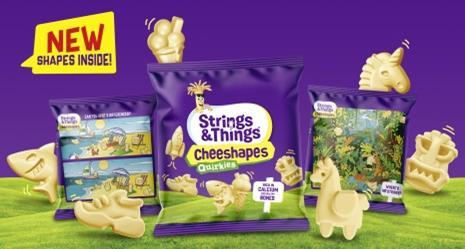 Part of the Strings & Things range, the updated line will include an array of playful new shapes to allow retailers to tap into the trends that kids are most excited about.
The new shapes include a llama, chunky trainer and tennis racquet, and will launch in Asda first before being rolled out to the rest of the market in August.
According to Kantar data, cheese snacking is on the rise with volume up 2.4%, largely driven by people opting for healthier snacks while Mintel research states that 76% of consumers agree that cheese is part of a healthy diet, and 78% see it as a good way of adding protein into diet.
Looking at kids' cheese snacking habits in particular, nearly one in ten lunchboxes already contain a cheese snack (Kantar). Coming in at under 100 calories per pack, the new Cheeshapes Quirkies - made of real cheese providing a source of calcium and vitamin D - will tap directly into this trend and allow retailers to offer parents healthy, fun, cheese snacks.
Strings & Things brand manager Melissa Sargeant said: "We're really excited to continue broadening our Strings & Things portfolio with our latest launch of Cheeshapes Quirkies. As a brand we're committed to making kids playtime fun whilst reassuring parents with a range of healthy snacks. The new range taps straight into this with a mix of quirky shapes that are all a great source of calcium."