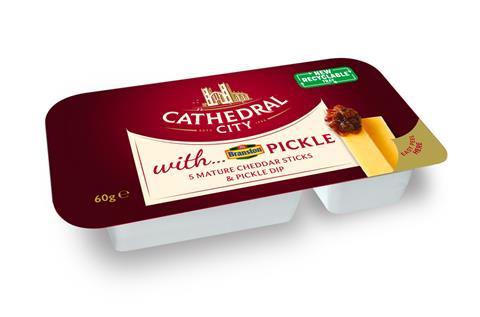 The Cathedral City Adult Cheese Snacking range isto move to a new recyclable tray, as part of Saputo Dairy UK's commitment to reduce the impacts of its supply chain on the environment.
Made from widely recycled white PET, the new trays will roll out across packs of Cathedral City 'with Pickle' and Cathedral City 'Lunchpack'. Formed using a reduced gauge, the new trays will also use up to 33% less plastic and contain up to 80% recycled content.
The transition is the latest in a series of sustainability initiatives from Cathedral City, which in 2020, saw the brand partner with recycling experts TerraCycle® to launch the industry's first recycling scheme for flexible film cheese packaging, supporting the entire cheese category. Now with 500 nationwide drop-off points, the scheme has collected over 290,000 units of cheese film packaging waste to date (equivalent to just over one tonne of plastic).
Cathedral City marketing controller Neil Stewart said: "In the UK, it is our ambition for our consumer-facing packaging to be 100% recyclable by FY2022. Our research and development team is working incredibly hard to develop new packaging solutions which could be recycled in standard household recycling collections in the future, while providing the same quality, protection and safety as our existing packaging.
"We are making great progress towards this ambition and our new snack pack trays and Nibbles recyclable outer film, both launching this month, are a clear testament to our commitment. With a busy pipeline of sustainability initiatives planned over the balance of 2021, and into 2022, we can guarantee more news to follow from Cathedral City."