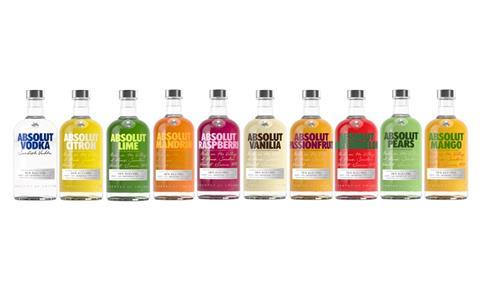 Absolut has revealed its new bottle design and remixed flavoured range in what will be the brand's biggest shake-up.
The new packaging aims to reflect the intensity of Absolut's flavours and harmonises the portfolio, with the stripped-back design offering clearer navigation to encourage discovery and significantly improved shelf standout. The bottle is also made with over 50% recycled clear glass, demonstrating Absolut's ongoing commitment to minimising its impact on the planet.
The new design uses the canvas of the iconic 18th century medicine bottle silhouette to shine a light on the spirit. For increased transparency, clear product information has been added to the front of the bottle including an ingredients list, ABV-level and where it has been produced and bottled in and around Åhus, to celebrate the brand's Swedish heritage. The name of the brand's founder, Lars Olsson Smith, has been added to the medallion on the front of the bottle and in addition, the font of the script has been modernised, making it easier to read and the Absolut logo is bigger and bolder to reflect the Absolut spirit.
The Absolut flavoured range has also received a refresh to optimise the brand's flavours to deliver a style and taste that's even more authentic to the fruit and offer consumers exceptional tasting cocktails. All of Absolut's fruity and spicy flavours (Raspberri, Vanilia, Passionfruit, Watermelon, Mango and Pear) will have a slightly lower ABV of 38% to deliver a sweeter flavour, whilst the citrus flavours (Citron, Lime and Mandarin) remain at 40% ABV to deliver a fresher taste profile, meaning the flavours are more tangy, zesty and bolder than ever before.
The new look Absolut range is rolling out from now, with Absolut Blue, Absolut Raspberri, Absolut Lime, Absolut Citron and Absolut Madarin the first to hit shelves, followed by Absolut Vanilia and Absolut Watermelon available from March, Absolut Passionfruit available from May, and Absolut Mango and Absolut Pear set to be introduced in Autumn.