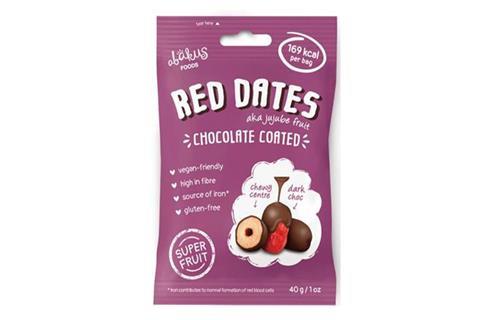 London-based snacks company Abakus Foods has added a new chocolate coated red dates product to its range.
The new snack is made using a mix of jujube fruits and dark chocolate, and joins the brand's existing seven-strong red dates portfolio.
In line with the rest of the range, the chocolate coated product is high in fibre, low in calories, gluten-free, suitable for vegans and contains non GMO. The dark chocolate used for the red dates coating also contains a minimum of 64% cocoa solid and is added to the product in Britain.
Helen Wang, Abakus Foods founder and director, said: "Taking the best of both worlds, we have created a fusion of East and West, and made it into a nutritious snack that excites both the body and the palette. We are really proud to be the first company to have produced the Chocolate Coated Red Dates and how delicious they turned out."
The Abakus chocolate coated red dates have an rrp of £1.49 per pack and are available to independents now.