Learn how this key c-store category is shaping up for summer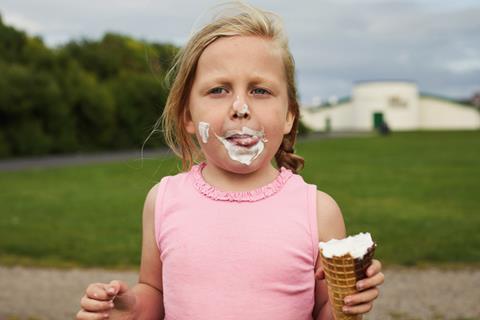 1. Ice cream is worth £790.8m in convenience
Summer 2022 was an absolute scorcher for ice-cream sales.
A combination of being released from Covid captivity, plus Costa del Sol-style weather, set c-store tills ringing as customers felt the heat.
"We did really well with ice creams last year to be honest," says Sophie Towers, owner of two One Stop stores in Burnley.
"It seemed like we couldn't get the supply in quick enough because they were just flying out. Where we are there aren't any ice cream vans or anything. So that makes us the main place for that kind of stuff."
With a bonus Bank Holiday planned retailers and brands are hoping for more of the same for this sunshine season.
"We anticipate another hot summer in 2023, and we believe that ice cream sales within the convenience channel will continue to grow," says Michelle Frost, general manager at Mars Chocolate Drinks and Treats.
"During warmer months, consumers will increasingly seek ice cream products for on the go, which lends itself perfectly to the nature of the convenience channel.
"To prepare for the season ahead, retailers should consider how they can expand their front-of-store freezer selection for the summer months to cater for these increased revenue opportunities, and stocking up on a range of ice cream formats."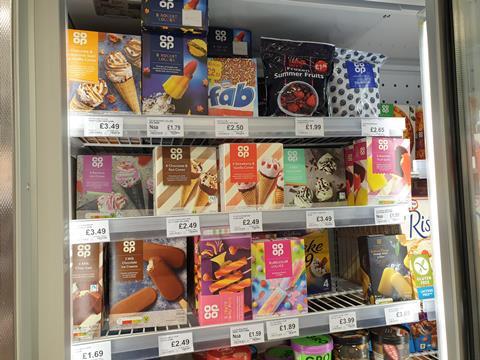 2. Cost-of-living is changing the game
Ice creams will always be an enduring seasonal winner. But over the last year the market has shifted as shoppers started to feel the chill from the cost-of-living crisis. It's no category meltdown, but rather a search for value.
"What you're looking at is a Magnum being £2.20 this summer," says Raaj Chandarana from Tara's Londis. "So I don't think we're going to be setting the world on fire this year. I know that wholesalers and symbols will be wanting to push NPD onto us, but I just think we've got to keep it tight, keep a core range, have a good value proposition and then away you go."
"When you look at Magnums, they're just getting so expensive aren't they?" adds Sophie. "That's especially true for families where you have multiple children. We're seeing lots of sales of value products. Even things like ice pops – we can sell boxes and boxes in a week if the sun's shining. They're a good profit margin and we just sell more."
Brands understand that, with consumers feeling poorer, they have a fight on their hands at the mid-to-top product tier.
"We are starting to see a clear shift in consumer attitude towards price," says Frost. "The cost-of-living crisis has seen more buyers opt for own label and everyday brands, which has clearly affected the sales of brands associated with indulgence and more specialist ingredients."
ADVERTISEMENT
Say Ciao to Crosta & Mollica Gelato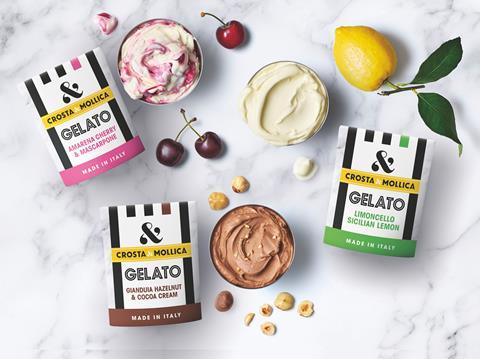 Every tub of the new Crosta & Mollica gelato range is made in Italy with fresh Italian milk; slow-whipped in the traditional gelateria process to achieve the light, smooth texture that authentic artisan Italian gelato is known for.
Available in four mouth-watering flavours; Amarena Cherry & Mascarpone, Walnut & Fig Caramel, Limoncello Sicilian Lemon and Gianduia Hazelnut & Cocoa Cream.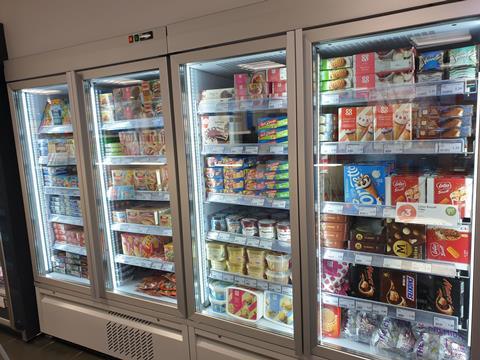 3. Ice cream is the largest category in frozen – worth £1.4bn
Despite cost challenges, ice cream is still part of frozen, which consumers recognise for its thrifty appeal. Large tubs of ice cream can be good value, which means it's worth shouting about in-store.
"Customers are moving in droves into the frozen category across convenience, this is a trend we can expect to stay for some time," says Stuart Common, managing director at Mackie's of Scotland.
"Frozen goods are favoured by many consumers because of their long shelf-life and lower price. The key actions for retailers are tried and tested: use price marked packs, carry a full range with great availability, and communicate any and all promotions available to you."
Sophie also appreciates the value appeal of tubs and multipacks in the freezer. "Where we are people can buy a tub of ice cream and then dish it out – which works out cheaper," she says.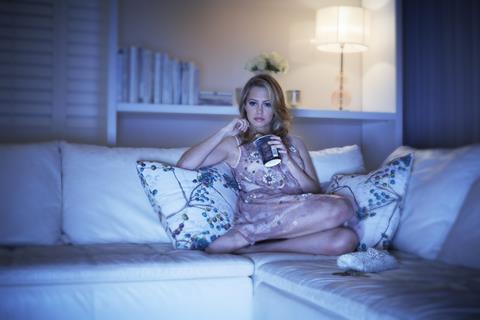 4. 40% of ice cream is consumed in the day compared with 60% in the evenings
Shoppers also recognise that even the most premium ice cream is cheaper than dessert at a restaurant. Hence the appeal of a Big Night In.
"Big Night In occasions have become more important than ever," explains Jose Alves, head of Häagen-Dazs UK at General Mills.
"With consumers looking to save on cost by spending less, the occasion provides retailers with an opportunity to drive sales at a time when we're all feeling the pinch. "We're working with retailers to drive sales through cross-category promotions that make it easier for the shopper to choose, such as bundles combining dessert offerings with pizza or meal kits."
Raaj reckons there's definitely a place for premium ice cream in his offer. "We expanded our range around 18 months ago and we're seeing some real benefits," he says.
"It's not just summer, it's a year-round thing. If you've just split up with your boyfriend then you're going to want some Ben & Jerry's! That element's always going to be there."
Raaj says Ben & Jerry's have "run away with the ultra-premium sector with NPD".
"They've got some really cool flavours, low calorie, vegan and lacto-free products – they've really invested," he says.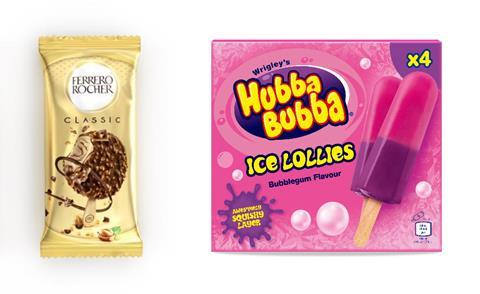 5. Ice cream NPD is going retro
When seen through rose-tinted retro spectacles, childhood summers always look the longest and hottest. And this year brands are tapping into that Back to the Future appeal with select NPD.
Frost maintains that nostalgia is a key trend, which the brand is meeting through new Hubba Bubba Ice Cream.
"For 2023, we will be bringing the Hubba Bubba brand to the ice cream market for the first time with the launch of Hubba Bubba Ice Lolly," she says. "The Hubba Brand has enjoyed a recent resurgence in popularity, appealing to a wide spectrum of consumers.
"In the mints and gum market, we have seen Gen Z cited as the catalyst behind a 16% YOY growth in gum specifically [NielsenlQ], however with Hubba Bubba we also have the added benefit of brand nostalgia to appeal to Millennials and beyond."
Also harking to the past, Ferrero UK is planning to take shoppers back to the ambassador's ball with new premium Ferrero Rocher Classic, Dark and Raffaello ice-creams. The release is being backed by a £2m marketing push.
"Ferrero Rocher and Raffaello are well-loved and trusted brands by many, and, as a key player within the confectionery category, we are confident that the newest addition to our portfolio will drive cross category purchase between confectionery and ice cream," says Jason Sutherland, UK & Ireland sales director at Ferrero.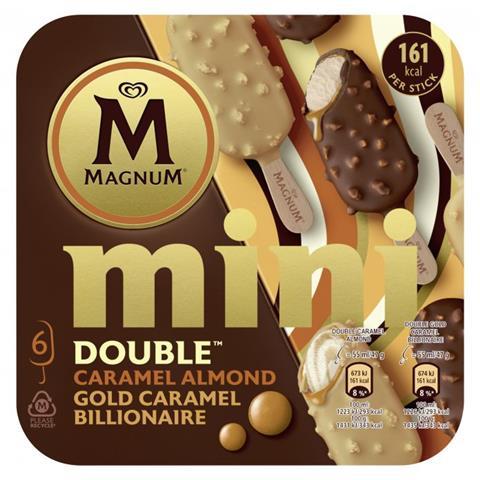 6. Mini packs are one of the fastest-selling segments in total ice cream
In the ice cream market, mini packs are achieving maximum returns.
"Consumer habits have changed, and people don't just eat at the table anymore; they might have a sweet treat on the sofa after dinner and want a portioned snack so they can still enjoy their treat but not the entire tub," says Jennifer Dyne, head of ice cream UK and Ireland at Unilever.
"This is where 'snackification' was born and has soon become one of the fastest-growing segments within ice cream. Gone are the days where choice was between a handheld or tub ice cream, mini ice cream ranges mean shoppers can enjoy some of their favourite ice creams in smaller portions and bite-size formats."
Dyne notes that Magnum Minis had a strong 2022, growing 8.3% faster than the category (Nielsen). This summer it's expanding the range with a Mini Double Caramel Multipack Collection. The release combines the brand's popular Gold Caramel Billionaire with its first-ever Caramel Almond product.
"These products [mini-sizes] are definitely in vogue at the moment and have performed exceptionally well," adds Common. "Customers are drawn to the option of having multiple portion occasions which can be enjoyed both at home as well as outside. "
Mackie's launched its own Mini Collection back in 2020 featuring four 120ml tubs, two each of the brand's most popular flavours – Traditional and Honeycomb.