From flour to frosting, we look at which products are performing well and the trends driving them.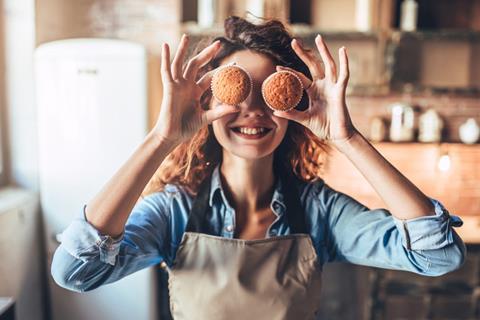 1. Over a third of consumers have been baking more in lockdown
"In the first four weeks of the UK lockdown, we saw 37m more home baking occasions, which were collectively worth £57m," says Helen Touchais, brand director for home baking at Premier Foods.
35% of consumers say they have been doing more baking, according to a study of 1,706 people conducted by Leatherhead Food Research (LFR). This trend was most pronounced in the 16-35 age group where 45% have used the lockdown as an opportunity to do more baking.
"Lockdown saw Britain go baking-mad as people found they had more time on their hands, and more time at home," says Jen Brown, head of marketing for Cake & Dessert at Dr. Oetker UK. "Convenience showed strong growth in the cake decorations, ingredients and mixes category versus the total market, with all sectors showing strong growth.
"In convenience, baking aids make up the greatest share of the category at 32.6% followed by inclusions at 12.3% and chocolate at 11.2%, with value sales in edible decorations, buttercreams and mixes seeing the most significant growth versus the same period last year."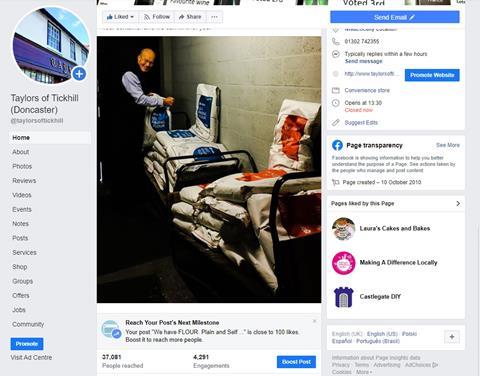 2. Flour sales remain strong and some consumers have developed a taste for alternative lines
Flour is the biggest performer within home baking, up 113.2% year-on-year [Kantar week ending 14/06/20].
High levels of demand saw UK flour millers producing twice as much retail flour during lockdown – up from two million bags a week to four million according to the National Association of British and Irish Millers (Nabim) – while many c-stores used their initiative and began sourcing catering packs of flour when retail packs were scarce.
Taylors of Tickhill in Yorkshire sourced 16kg bags of flour which were sold at £12.35 - £13.75 each or weighed out into £1kg for customers. Owner Chris Taylor posted a photo on the store's Facebook page to promote this and it received over 37,000 views. When only plain flour was available, he also ordered a big pot of baking powder which he then weighed up on the deli counter so that people could mix it to make self-raising flour. "I put a Youtube video out there [on Facebook] showing how to do it and it was brilliant - people came and bought it," he says.
The shortage of plain and self-raising flour actually encouraged consumers to try out new varieties. "Whilst availability was an issue at the start of lockdown, in April it was about trying to source any kind of flour product for our customers," says Jonathan Childs, commercial manager at Petty Wood, which distributes Menier cooking chocolate. "It led to bakers who are confident in their skills to try alternative flours. People have been resourceful.
"The basics are where the majority of the sales will come from - Plain and self-raising flour are a must. But there will be a continued trend towards alternatives."
East London retailer Kay Patel can relate to this. He went through multiple suppliers to ensure he had flour on shelf. "Home baking went crazy for a while," he says. "Before, we only carried plain, self-raising and wholemeal bread flour. We've now got about seven types - rye flour, spelt flour, gluten-free, millet flour - you name it!"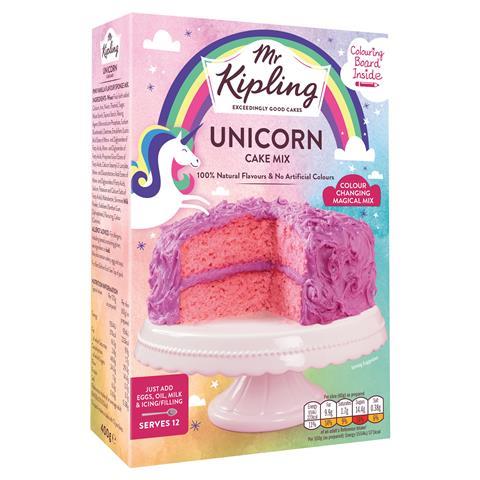 3. Cake mix is in demand as consumers seek out fail-safe recipes
Convenience showed strong growth in cake mixes versus the total market, states Dr Oetker. "Cake mixes were particularly strong at +114%, followed by coverings such as buttercreams, at +121%," says Brown. "Sub-categories in convenience that showed significant growth included brownie/traybakes at +304%, whole cakes at +158% and dessert mixes at +135%.
"There has been huge growth in brownie and tray bake mixes. This could suggest that parents are potentially buying these as a form of activity for children – an educational and enjoyable task for families as they spend more time at home."
Premier Foods is targeting kids with a Unicorn Cake Mix (rrp £2.50 for a 400g pack) and icing products (£2.50 for a 400g pack).
"Mixes are a great way to introduce novices and children to home baking, with simple recipes and convenient packs containing all the key ingredients," says Touchais. "Themed products that are based on popular trends – such as unicorns – bring natural excitement and provide a springboard for families to get creative with their final decorations. Shoppers can have confidence that the resulting cake will be of a high standard, and turn out as expected, because of the simplicity of the product."
Young adults are also using cake mixes, claims the company. "With many younger adult bakers fairly inexperienced, they have turned to baking mixes to get the fundamentals in place, leaving them able to focus on customisation of the resulting product (pre-families have increased their use of baking mixes by +73% year-on-year)," says Touchais.
"That convenience format has been perfect for bakers and novices to try their arm at baking," adds Childs. "It's a really convenient low risk, low cost product."
General Mills reports that Betty Crocker, which specialises in cake mix and ready made icing, has seen huge success during lockdown, with value sales are up +89.3% year-on-year (Nielsen Scantrack data to WE 27.06.20).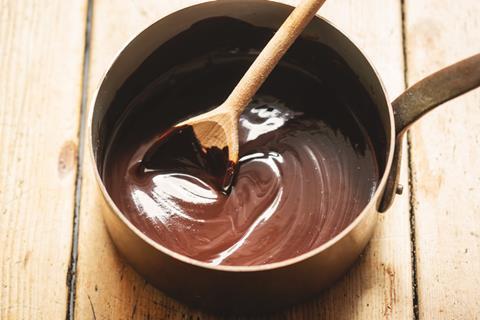 4. Convenience stores have grown cooking chocolate market share
Cooking chocolate grew 61.2% in the 12 weeks to mid-May, claims Petty Wood, noting that much of this trade was through the convenience channel, which it claims has grown market share by 2%.
Menier sales are up 300% year-on-year and the brand continues to get new listings in convenience, states Childs. "We've had new listings in Spar and regained listings in Tesco because we've had fantastic availability."
When it comes to cooking chocolate, 40% of sales go to products that are under £1, but Petty Wood has seen strong growth in the £1.30 to £1.50 price points, which accounts for 25% of cooking chocolate as a whole.
"There has been some inflation in the market, but that hasn't detracted bakers from buying," says Childs. "It's been seen as an essential category to get people through lockdown."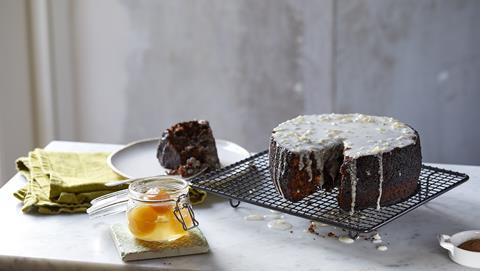 5. Whole cakes and biscuits are the most popular bakes
Research from Flora, which polled 2,000 adults in April, revealed that during lockdown over half (53%) of those baking were making more cakes. "From mid-March, the top five recipes searched for by consumers on the Flora websites were all cakes, proving that sweet treats have been hugely popular as the nation began spending more time at home," says Catherine Lloyd, marketing director Upfield, UK & Ireland.  
Dr Oetker's Brown says: "Throughout the lockdown months we have seen that consumers are eating more desserts and snacking more on sweet home baking, however biscuits and whole cakes have been the real winners throughout lockdown. These categories have seen the largest uplift over the last three months and in turn have the largest share of total sweet home baking occasions vs the same period last year."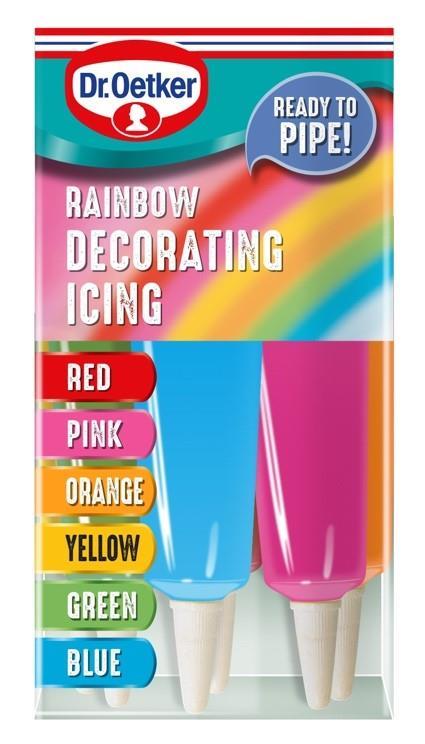 6. More families have taken up baking
"Nearly half of people say they have started baking or are baking more often since lockdown, with families over-indexing in these, claims Dr Oetker. "Buyers have grown 1.3m in 12w/e May vs YA and over half of these 'new' buyers (54%) are made up of families, showing that parents and children are enjoying home baking together," says Brown.
The firm has just launched a Rainbow Decorating Icing pack (rrp: £2.50) set to appeal to youngsters. "Dr. Oetker's new rainbow icing can help families create eye-catching, colourful cakes, all whilst spending quality time together," says Brown.
Many parents turned to baking to keep their kids entertained during lockdown, notes Premier Foods. "The requirement of so many households to home school has enabled baking to be used as a valuable tool to not just keep children engaged, but teach them useful skills too," says Touchais. "Whilst we have seen that families have turned to breadmaking and traditional savoury bakes, we have also seen demand for family-orientated products go up as parents look for solutions that bring more fun to the activity and encourage children to be creative."
Petty Wood has seen big demand for additions, such as chocolate drops and fun decorations to put on top of cakes. "That's probably been driven by the fact there's a lot more kids and the younger generation being involved," says Childs. Menier is about to expand its dark and milk chocolate drops into the convenience channel after an initial launch in Waitrose.
"Children have taken over kitchens during lockdown, with more youngsters than ever showing an interest in baking," says Upfield's Lloyd. "Our family friendly recipes have proven to be very popular, with Lemon and Blueberry Muffins, Apple Cupcakes and Chocolate Chip Cupcakes revealed as the most searched for recipes on Flora's online recipe hub in March."
The group recommends that independent retailers dual-site complementary baking products alongside Flora to maximise sales.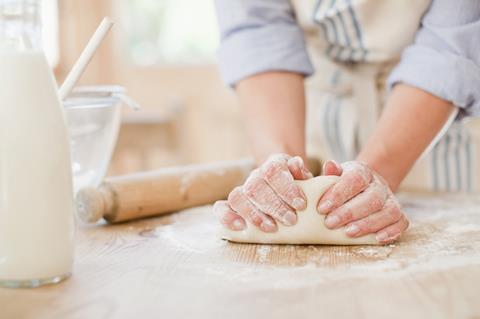 7. Home baking is here to stay
A third of consumers (33%) plan to bake regularly, according to a survey of over 4,000 Brits in a YouGov poll conducted on behalf of NABIM in May.
Kay claims that sales of his home baking products are still significantly higher than before lockdown. "It's come back down, not what it was pre-pandemic, but it's half-way."
"We're confident that there will be a continued interest and frequency of baking in the home," says Childs. "Although lockdown has slightly eased, there are more opportunities now than there were pre-lockdown to do more baking. With the opportunity to have the family baking together, you have a keen interest from younger generations in baking. That can only add to the positive noise.
"From the trends we have witnessed over the last few months, we can expect there to be a sustained increase in demand for home baking products long term, as people have upskilled themselves in the kitchen. Many shoppers are more comfortable with their abilities than before, so are willing to create different dishes from scratch, with home baking being a category perfectly placed to enable further experimentation.
He urges retailers to re-think the balance of space within their baking fixture now that the flour frenzy has died down. "Space was really given to high volume lines - flour and sugar. That demand has slightly reduced so there's time to reset that space," he says. "We would encourage retailers to ensure their home baking offering contains both core baking staples, such as plain and self-raising flour, as well as baking mixes and icings, which will broaden the appeal of the fixture and encourage shoppers to continue to bake at home more regularly." He adds that having a range of two to five baking additions is key.