North Norfolk District Council is examining ways to help the Holt-based Budgens store destroyed by a fire last weekend.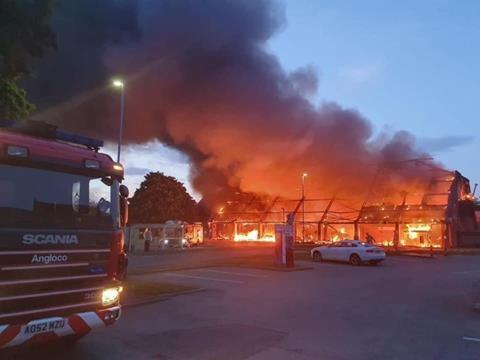 On Saturday 20 June, a fire ripped through the store, completely destroying the building. Nobody was hurt in the fire.
The Council has offered to work with the company provide employment advice and support to employees affected by the fire through its Economic Growth Team and if such assistance is required this will be put in place in the next few days.
The store, owned by Bakers and Larners, was the town's principal food shop and supermarket and concerns have been raised about how elderly and vulnerable people who were supported by Budgens during the Coronavirus lockdown will be able to access their shopping.
The company is considering how it might be able to continue provision of service through its Budgens Aylsham store and Bakers and Larners store. The company is also in contact with Post Office Counters Limited about providing a post office service from other premises in the town.
Leader of North Norfolk District Council Sarah Bütikofer said: "North Norfolk District Council is already working with local partners to provide all the support we can to those impacted by events, and will continue to do so over the next few days and weeks to come.
Open for business
Discussions have also been had with Bakers and Larners, the Town Council and the chamber of trade about the wider support which can be provided in promoting the town as "open for business".
"Budgens of Holt was a key driver of footfall in the town and also had a strong 'local' offer with many local food producers selling their products through the store," added Bütikofer. "Local partners recognised that this 'buy local : love local' message needed to be promoted as there are many independent specialist food stores in the town - butchers, bakers, fishmongers, and greengrocers which are still able to serve people with their local food shopping from local growers and producers."
A crowdfund created by the community to support the staff has already raised more than £5,400.