Retailers have been making increased use of cash & carry in the past year, according to new research from HIM.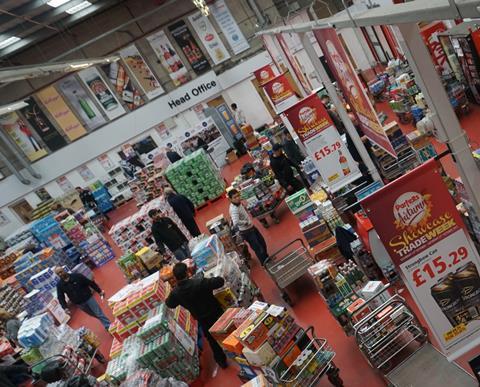 The research firm's UK Wholesale Market Report 2019 indicates that average spend per visit by retailers at cash & carry wholesalers has risen from £858 in 2018 to £1,205 in 2019, an increase of 40%. At the same time, average trip frequency has increased from 2.8 times a week last year to three in 2019, indicating that retailers are not only spending more per trip but also visiting more often.
According to HIM, the increase is driven by a reduction in the number of distress top-up missions and a rise in the number of main restock missions. All major product categories have seen an increase in spending through cash & carry, with tobacco purchased by 45% of retailers in the survey (up from 41% in 2018), alcohol by 59% (up from 53%) and soft drinks by 77% (up from 72%).
Purchase values through delivered wholesale have also increased year-on-year, but less strongly, with the average spend per order rising from £2,955 to £3,170.
Blonnie Walsh, Senior Insights Manager at HIM & MCA Insight, said: "A lot of attention is focused on the growth of delivered wholesale and the changing behaviours of retailers and foodservice operators, however our latest research paints an increasingly positive picture for the C&C channel.
"Retailer spend is considerably higher through delivered wholesaler, but the gap has closed year-on-year, highlighting the huge opportunity for wholesalers to drive incremental sales and footfall to their depots. The opportunity is particularly high for those wholesalers that offer both delivered and C&C as a route to market."
The HIM UK Wholesale Market Report 2019 consists of 2,095 face to face interviews conducted in June-Sept 2019 in cash & carry depots and 2,420 telephone interviews conducted in June-Sept 2019 with delivered users. Wholesalers included in the survey include Booker, Bestway, Unitas, East End Foods, Hyperama, Henderson, Makro, James Hall, Appleby Westward, Dhamecha, Batleys, Parfetts, United, Nisa, CJ Lang and Blakemore.
For more information and to find out how you can access the MCA UK Wholesale Market Report 2019, please get in touch with HIM through the company's website.