Morrisons has announced a number of new wholesale partnerships, including the roll out of its Morrisons Daily convenience store fascia to further stores.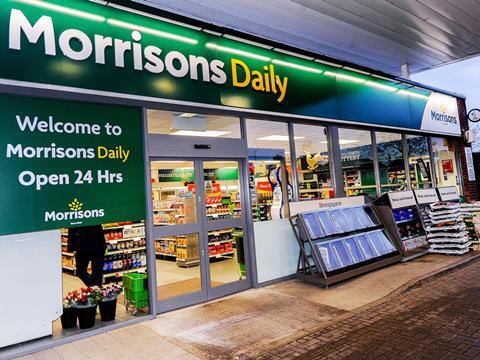 Announcing its first half results which saw like-for-like sales rise 0.2%, Morrisons reported a new wholesale partnership with Harvest Energy, which operates over 80 c-stores on its petrol station forecourts. It plans to convert "a number of these" stores to Morrisons Daily in the coming months.
In addition, Morrisons is extending its wholesale partnership with Rontec though further store format trials.
It plans to add to the 50 or so Morrisons Daily stores on Rontec petrol forecourts and has begun trialling different formats in four of Rontec's smaller stores, in which two are branded Morrisons Select - offering predominantly a food-to-go Morrisons range - and two remain Shop'N Drive with small Morrisons food-to-go inserts.
Morrisons and Amazon have also signed a long-term partnership, following the announcement in June to expand the Morrisons store on Prime Now to more cities across the UK.
Under the partnership the two groups "will be exploring new opportunities to innovate and improve the shopping experience for both Morrisons and Amazon customers".
During the first half, 10 McColl's stores were converted to the Morrisons Daily fascia. "Initial signs from these Morrisons Daily conversions are encouraging, and customer reaction has been positive," Morrisons said. It expects to begin to start supplying McColl's approximately 300 former Co-op stores from the end of 2019.
The first half like-for-like sales rise was driven by wholesale growth of 1.3%, but second quarter like-for-like sales declined by -1.9% in the six months to 4 August – with wholesale growth of 0.5%.
However, the group's pre-tax profit rose by 5.3% to £198m.
Chief executive David Potts said: "News today of new wholesale initiatives, including a further extension of our partnership with Amazon, and of another special dividend, again show how new Morrisons continues to become broader and stronger for all stakeholders, and how progress can be meaningful and sustainable even in more testing trading conditions."