McColl's has seen a drop in total revenue in its interim results although like-for-like sales rose during the period.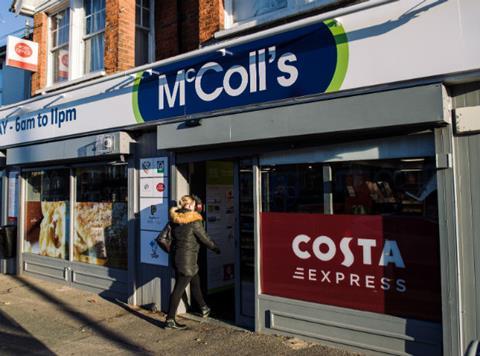 For the 26 weeks to 24 May 2020, it reported that total revenue was down 1% to £604.8m (2019: £611.1m) driven by store closures during the period and lower services revenue due to the temporary withdrawal of scratch cards. It also saw a like-for-like sales growth of 8.3% (2019: 1.0%) in the period, having experienced strong demand as consumers chose to shop locally during lockdown restrictions.
The business reported that its customers' shopping habits changed significantly during coronavirus. Chief executive Jonathan Miller said: "We experienced a change in the way consumers shopped with us, with significant increases in take home, groceries, beers, wines and spirits. The traditional categories of news and tobacco have also shown good growth.
"We have seen an extraordinary change since the onset of the crisis. Strong demand, reaching double digit like-for-like sales in recent months, has been accompanied by a significant shift in the pattern of trade. Food grocery and alcohol sales have been particularly strong, in line with our longer-term strategy to grow these categories as part of our total sales mix. Meanwhile, customers have been spending less on impulse and buying more multipack products."
Miller added that these changes may be permanent. "While it's unknown how behaviours will change when restrictions are removed, the recent environment presented us with an opportunity to put our best foot forward within the communities in which we operate. Our format, range and differentiated customer service all hold us in good stead to retain the additional customers drawn to our stores during such difficult circumstances, but we also invested selectively in price on chilled foods, fruit and vegetables and milk, as well as maintaining our promotional programme to offer customers great value."
Although the shift to fresh has aligned with McColl's strategic change programme, the business has had to delay some aspects of it. As part of what was to be a "fundamental reset to the operating model", McColl's has completed the first phase review of store operating model prior to lockdown ready for store trials when conditions are suitable.
It has also held off the planned cutting down of store numbers due to the pandemic. "Whilst we continue to plan for previously announced store divestments as we move towards an optimised estate of c.1,100 larger, more convenience-focused stores, divestment activity has been temporarily put on hold where possible to support local communities during the COVID-19 pandemic."