Scottish symbol group KeyStore has joined forces with the Scottish Grocers Federation's Healthy Living Programme to launch a fruit loyalty scheme for children.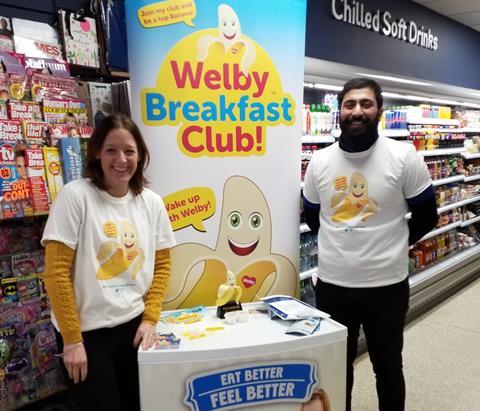 The Welby fruit loyalty club incentivises children to choose a banana, apple, orange or pear instead of confectionery by giving them a loyalty card that is stamped each time they buy a piece of fruit – the fifth piece of fruit is then completely free of charge.
Initially being trialled by the Healthy Living Programme in 12 KeyStore outlets across Inverclyde and Renfrewshire, the Welby Fruit Loyalty Club is also designed to encourage retailers to place more emphasis on fruit and veg in their stores.
AJ Benning, owner of KeyStore More in Cowal View, Gourock, welcomed local kids and teachers for the official launch of the scheme. "It was a brilliant afternoon and the kids were really excited and engaged with the whole thing," he said.
"Despite the weather not being great we had loads of kids come into the store and I'd attended a PTA meeting a couple of weeks before to explain all about it.
"I'm finding in this area that parents want to see their kids make healthier choices and I've noticed that a lot of them will choose fruit instead of sweets which makes the Welby scheme perfect for this store."
Under the Welby scheme, AJ is currently charging 35p for a piece of fruit. "I'll see how it goes over the coming weeks and might develop it in the future by increasing the cost of an individual piece of fruit to 45p but offer a '3 for £1' incentive," he said.
Healthy Living Programme field manager Gillian Edgar said: "We're trialling the initiative with JW Filshill in 12 stores and our aim is to roll it out to other fascias in due course. We had a fantastic launch with AJ in Gourock and thank him for his enthusiasm.
"By making something like this fun for the kids – the scheme is largely targeted at them but also open to everyone else – we are confident that it will encourage increased uptake of fruit in communities across Scotland."
Craig Brown, retail sales director of Filshill, KeyStore brand owner, said: "This is a first-class initiative that will help KeyStore retailers develop their fresh food offer and increase sales of fruit and veg," commented.
"We've been collaborating with the Healthy Living Programme on the launch for a couple of months now and it's great to see it come to fruition."
The SGF Healthy Living Programme is a Scottish government-sponsored programme.