High street retailers are demonstrating an improved commitment to clamp down on under-aged knife sales, new age-check audit data from Serve Legal suggests.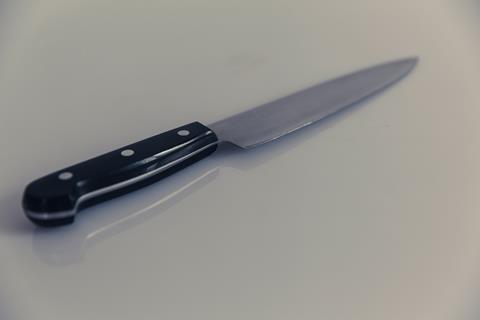 Mystery shopping results from 2018 reveal that 82% of Serve Legal's young knife buyers were asked to show age identification at the point of purchase, compared to 75% in 2017 and 57% five years ago.
Supermarkets achieved a pass rate of 85% - the highest achieved by bricks and mortar retailers and well ahead of homeware stores at 74%.
London was the best performing area of the UK, with the Capital's retailers passing 87% of knife sale tests, compared to 82% in 2017.
While Serve Legal's audit data for bricks and mortar stores painted "a much-improved picture," online sales were "less positive," it said.
In 2018, 4,395 young mystery shoppers ordered age-restricted goods, including knives, from online retailers and mail order companies.
Half (51%) took delivery of their order without being asked for proof of age.
Despite audits more than tripling in 2018 compared to 2017, pass rates improved only marginally from 44% in 2017 to 49% in 2018.
In England and Wales, it is illegal to sell a knife, blade or axe to a person under the age of 18, while Scottish law allows sales of kitchen knives to children aged 16 and over.
Any young person trying to buy a knife should be asked for official proof of age such as a passport, photocard driving licence or PASS-accredited card.
In 2018, against a backdrop of record knife crime, the Home Office announced a package of measures designed to reduce knife crime.
This included an increased level of Trading Standards test purchasing and the launch of a prosecution fund to enforce the law for repeat test purchase failures.
Serve Legal director Ed Heaver said: "Knife crime is a complex and deep-rooted problem with far-reaching consequences. No retailer, whether a major supermarket chain or a single hardware store, wants to be responsible for selling a knife to an under-age person that ends up being used with tragic consequences.
"Against a tightening government stance on violent crime, our audit data for 2018 shows a significant improvement in retailer action to keep knives out of circulation amongst young people which we hope will continue to be an upward trend.
"There is still work to do, however, as nearly one in five of our young mystery shoppers were sold knives without age checks last year.
"Galvanised by government action and through a combination of rigorous staff training, efficient operational systems and independent auditing programmes, we're confident that retailers will further improve their performance."
Despite the risks associated with under-age knife sales, retailers commissioned twelve times as many age check tests for alcohol (50,325) in 2018 as they did for knives and 1.8 times as many tests for cigarettes.