A gang of three men have been jailed for carrying out 11 ATM ram-raids across Sussex, Surrey and Hampshire last year.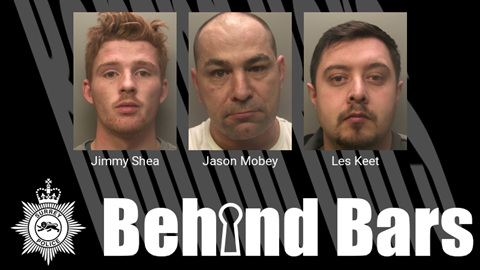 Jason Mobey, Jimmy Shea and Les Keet, conspired to target various ATMs across Surrey, Sussex and Hampshire, stealing in excess of £500,000 and causing approximately £900,000 in damage between July and November 2018.
The gang would use heavy machinery to carry out the ram raids before stealing the cash machines during the hours of darkness.
Heavy machinery and getaway vehicles would be stolen, with many of the vehicles subsequently burnt out in an attempt to destroy evidence.
The lengthy and complex investigation to identify the men was run by Surrey and Sussex Police's Serious Organised Crime Unit and involved gathering CCTV evidence, forensic investigations, piecing together a large volume of information provided by members of the public, and covert tactics.
After gathering sufficient evidence, 70 officers from Surrey Police, with the assistance of Sussex Police and Hampshire Constabulary, conducted various pre-dawn raids on 20 December 2018. During these searches police recovered clothing, vehicles and lifting/cutting equipment relating to the offences. The three men pleaded guilty in April.
Borough Commander for Waverley, Inspector Gary Smith said: "The ATM thefts last year caused misery for those business which were targeted, as well as causing a great deal of concern within the local community and I am delighted to see that those responsible have been brought to justice and will be behind bars for a considerable period of time.
"The actions of the five men not only caused hundreds of thousands of pounds of damage but also cost people their jobs and greatly inconvenienced local residents who had to travel further to withdraw their money."
Head of Serious Organised Crime for Surrey and Sussex, Detective Superintendent Karen Mizzi said: "The sentences handed down show the seriousness of these crimes.
"ATM thefts are a national issue and we will work with all our neighbouring forces, and on a national level, to ensure that these organised crime groups are stopped at source."
A spokesperson for Cardtronics, which operates the ATMs attacked in the incidents, wrote in its business impact statement that "99% of the time the shop that housed the machine would have been destroyed due to the collateral damage caused by the plant machinery, some of which never reopened again".
"Criminals think this is a victimless crime and they can't be more wrong as when they steal monies this means as a business that is self-insured the people in the company could lose their jobs as the attacks, losses and monies stolen comes from the company's bottom line," the spokesperson said.
Jason Mobey, 40, of Macdonald Road, Farnham, pleaded guilty to conspiracy to commit burglary (non-dwelling) and conspiracy to commit robbery. He was jailed for 10 years, eight months at Hove Crown Court.
Jimmy Shea, 24, of Nursery Road, Alton, pleaded guilty to conspiracy to commit burglary (non-dwelling). He was jailed for six years.
Les Keet, 29, of Cobbetts Close, Normandy, pleaded guilty to conspiracy to commit burglary (non-dwelling) and conspiracy to commit robbery. He was jailed for eight years.
The men carried out the following ATM attacks:
1. 09/07/18 1.20am - Tesco Express, Ridgway Rd, Farnham
2. 14/08/18 2am - Co-op, Wych Hill, Woking
3. 17/08/18 3am - Halifax, West Street, Farnham
4. 09/09/18 2.45am - Co-op, Rudgwick, Sussex
5. 19/09/18 4.25am - Nutbourne Service Station, Nutbourne, Chichester
6. 21/09/18 3am - Sleaford Service Station, Bordon, Hampshire
7. 03/10/18 1.30am - Co-op, Hambledon Rd, Denmead, Hampshire
8. 12/10/18 4.20am - Sainsbury's Local, High Street, Billingshurst, Sussex
9. 04/11/18 4.43am - Lloyds Bank, Ockham Rd South, East Horsley
10. 05/11/18 4.30am - Tesco Express, Vale Way, Kingsworthy, Winchester
11. 17/11/18 4.03am - HSBC Bank, 74 High Street, Alton