A Eurospar store in Northern Ireland is set to remove bags from its loose fruit and veg zone as part of a drive to cut its carbon footprint.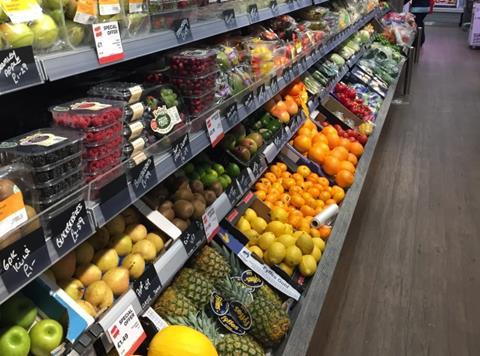 Eurospar Mulkerns in Newry will sell all 28 loose fruit and lines without accompanying bags, including the likes of apples, lemons, clementines, avocados, onions and pomegranate, once all existing bags are used up.
"Biodegradable bags are more expensive so we decided to cut out bags completely. We weigh loose fruit and veg at the tills anyway," said manager Thomas Magennis.
"We've had positive feedback from customers about the idea, and we hope to see a sales increase in loose items.
"We're trying to market ourselves as market leading in reducing carbon footprint. We're also planning to introduce 20p biodegradeable carrier bags."
The move comes as Morrisons announced plans to introduce plastic-free fruit and vegetable areas across its stores following a successful trial in which sales of loose items increased significantly.
A 10-week trial in three Morrisons stores in Skipton, Guiseley and St Ives, resulted in an average 40% rise in the amount of loose fruit and veg bought by customers.
Some 127 loose fruit and vegetable varieties will now be offered in new 'buy bagless' shelves, which are estimated to save three tonnes of plastic a week.
The loose fruit and vegetable areas will be rolled out across 60 Morrisons stores during 2019 and will continue to be introduced across the UK as part of the retailer's initiative to remove 9,000 tonnes of unnecessary and problematic plastic a year.
Morrisons fruit and veg director Drew Kirk said: "Many of our customers would like the option of buying their fruit and veg loose. So, we're creating an area of our greengrocery with no plastic where they can pick as much or as little as they like. We're going back to using traditional greengrocery and we hope customers appreciate the choice."
The loose fruit and vegetable range includes essentials such as carrots, potatoes, apples and oranges, as well as seasonal varieties such as celeriac and pomegranates.