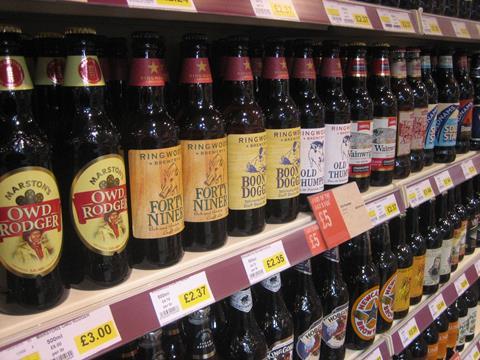 Costcutter Supermarkets Group (CSG) has tapped into the booming craft pint trend with the introduction of 30 craft beers and ciders to its range for independent retailers.
The offer includes beers and ciders from around the globe as well as locally -sourced small batch brewers, which are available to retailers through CSG's central supply chain as well as its direct-to-store service.
Grapefruit, liquorice and tropical fruits are just some of the flavours available in 330ml cans, 500ml bottles and multibuys. Brands on offer include Wolf Warning lager and Elk Warning cider, Stan's Barrell Roller cider and Belhaven Grapefruit, Thistle or Mango lagers.
Prices vary from £1.99 to £2.79, depending on the volume of alcohol.
Costcutter has advised retailers to reduce the duplications of their existing standard beer and cider offer to create shelf and fridge space for the new range.
CSG category manager for ales, stouts, lager & cider Rachael Grist said: "To tap into this ever-growing trend we have worked hard to create a range that appeals to our discerning shoppers who are demanding better quality, flavour, choice and small batch produced beers and ciders.
"The market has seen a decline in less premium brand sales and we've recognised a demand for flavoured, heritage and craft drinks. The category already represents nearly 10% of all BWS sales and in the last four weeks alone craft beers and ciders have seen a double digit growth, so it's certainly the right time to capitalise on this trend.
She added: "Where we can we're creating an offering that is tailored to our geographic mix of retailers. For example for our Yorkshire retailers we're offering them products from Yorkshire brewers, Theakston, Timothy Taylor and Black Sheep and for our Scottish retailers the range includes McEwans and Old Jock."