Bestway Wholesale has boosted its chilled offer and completed a 'depot hub' project aimed at improving delivery efficiencies and service to its delivered retail customers.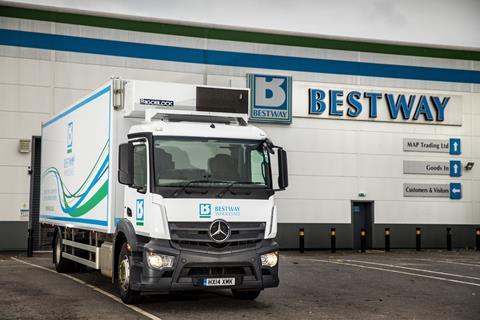 Under the depot hub initiative, 23 of its 60-plus depots have become delivery hubs with fast-pick areas and a higher number of loading bays, as well as a collect offer for nearby customers.
The remaining depots now have additional room to improve the collect range they stock and increase focus on the shopping experience in depot, with deliveries removed.
Bestway has also increased its chilled distribution centre by 50% to enable it to introduce 1,500 additional chilled lines to its range, half of which are available for single pick to give customers maximum choice and flexibility when ordering online.
Elsewhere, an order tracking feature has been launched on both the app and the website to provide customers with a four-hour delivery window and inform them of any product substitutions at the point of pick.
It has also introduced a common range of 5,000 products across all its depots, ensuring consistency of range.
Earlier this year the Best-one brand was moved from Bestway Wholesale to Bestway Retail, which also oversees the Bargain Booze, Select Convenience, Wine Rack and Central Convenience brands.
Bestway Wholesale head of operations, Ashar Rehman, said: "With 44% of the Bestway business now delivered, it's been important for us to optimise our supply chain and delivery structure to ensure the customer has the best possible experience and maximum choice of products and ways to shop, whether they are delivered or shopping in depot.
"Depot and sales teams have also been given clear focuses through the depot hub project and by aligning the reporting structure of the Best-one symbol group within Bestway Retail."