A rural Budgens store near Reading is appealing for witnesses after its external ATM was blown up at around 2:50am on Friday morning (7 June).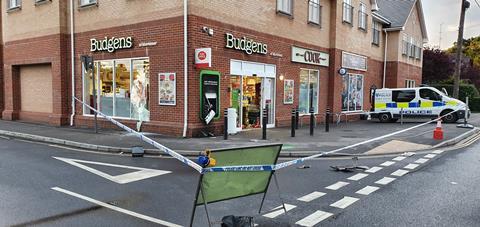 All of the cash was stolen from the ATM at the Budgens store in the village of Mortimer.
Budgens Mortimer said on Facebook: "Shop may not be open first thing this morning. Had the cash machine blown up and all the cash stolen. Will update when open. Any witness please contact the shop.
"Nobody was hurt. Just a bit annoyed."
Store manager Philip Bushenell praised the police response. "They've been excellent - we've had police, forensics, all sorts. I've been here since 3am and we reopened this afternoon," he told C-Store.
One local resident commented on Facebook that she "thought it was thunder".
According to Thames Valley Police, no arrests have yet been made.
The incident follows a number of recent ATM thefts across the UK, including an ATM ram raid at a Co-op Group store in Oxfordshire and an incident at a petrol station in County Tyrone, Northern Ireland.
Anyone with information about the incident should contact Thames Valley Police on 101 or contact the independent charity Crimestoppers anonymously on 0800 555111.