I'll say this for ATM companies: they have very good lawyers drawing up their contracts. Especially the clause that says they can move the goalposts at will.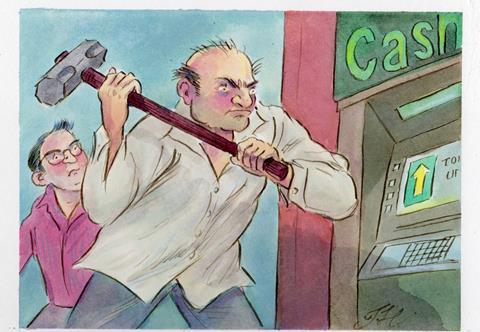 Simon and Helen Biddle (Spar, Webheath, Midlands) have pulled the plug on their NoteMachine ATM when, without warning or discussion, the company put the withdrawal fee up to £1.50.
"I was on the till," says Simon, "when a pretty irate customer said 'I've been charged £1.50'. We had put our own sign up warning of a 99p fee. I didn't believe it so I used my own card to take out £10. I was fuming.
"The call centre said they hadn't notified anyone."
He spoke to someone a bit higher up and told him he would be taking a sledgehammer to it (didn't really mean it). The someone-higher-up quoted clause so-and-so. Simon said we're turning it off. The someone said we'll be writing to you.
The ATM, originally free-to-use five years ago, paying 5p per transaction in commission, imposed a 99p fee last year, changing the commission fee to £42 a month. The Biddles weren't happy about it but went along with it.
"When the pandemic started they cut it down to £11.99 a month," says Simon. They're not having as many transactions so they put the charge up. It's totally out of order.
"We should be working together…we sanitise the machine every few hours. If they want to take legal action, I'll see it through."
Wonder what the ATM companies will do about fees now that they have to pay back the business rates they have been charging retailers.