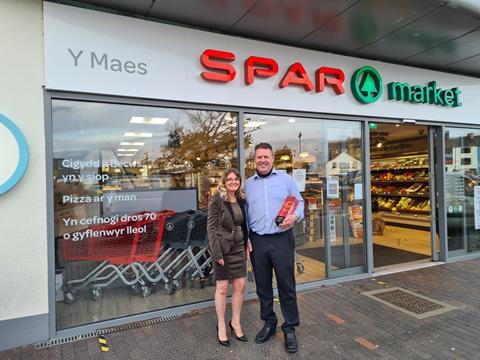 With entries for the Convenience Awards 2021 now open, Conveniencestore.co.uk has checked in with one of the winners to discuss what's happened since receiving not one, but two awards.
Spar Y Maes in Pwllheli was crowned Convenience Retailer of the Year and picked up the gong for Best Independent Convenience Store too.
The 2,999 sq ft Y Maes store was awarded for offering locals and visitors, in what is an ultra-competitive tourist hot spot, all they could possibly need.
It underwent a major refit last year, putting a major focus on fresh produce, including a tank for locally-caught lobster.
So what did these awards mean to the business?
"It means the world to be honest," said owner Conrad Davies.
"All the things that you do to create the store you've got, hoping you're going in the right direction to create a unique point of difference for your local community in the tough trading environment were in, to then be awarded, it's more than just a pat on the back."
Davies explained he has since been approached to give a Q&A presentation at a "food fine food cluster meeting", for Welsh food producers.
"They just wanted to know how they could get into retail outlets and how can they expand their ranges, so that was nice to be part of that," he said.
The business has also had three-chain seafood restaurant, Dylan's, expand its current range in its stores of pizzas and sourdough breads, with its soups earlier this month.
It is also trialling its "signature ready meal dishes" such as seafood linguini and chowder.
In the new year, Davies said he plans to "really shout about" the win, by incorporating it into PoS during the store revamp in January and February. "We've had a lot of feedback from customers, but I want to do a lot more with it," he said.
But Davies said for 2021, he is also going to be putting more of a focus on value. "There will be repercussions of the pandemic with job losses and stagnation of wages, as well as cost indications with Brexit too. There's so much uncertainty.
"So while we'll be geared up for hopefully a busy holiday season, I think we need to make sure that everything we do, we do have some sort of value element in our business, and not just deemed as an expensive shop."