St Peter's Brewery has teamed up with the NFU to launch Centenary Ale, marking 100 years of the union.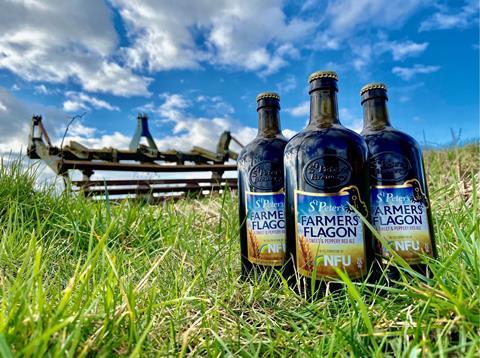 Farmer's Flagon is being produced by the Suffolk brewer to reflect the NFU's dedication to farming in Suffolk over the last century.
"The NFU got in touch with us as they wanted to do something special to mark their centenary and they loved what we do here at the brewery, and the fact that we are in such a rural location, surrounded by fields of barley. They felt the brewery was the perfect fit for producing this special ale, especially as flagon malting barley is grown locally," explained St Peter's Brewery md John Hadingham.
"At a time when we are all worrying about bigger things and relying on our British farmers to come up with the goods in the coming weeks, it is fantastic to be a part of something that celebrates the NFU's role in the continued success of British farming."
Farmer's Flagon is a rich pale ale brewed with cascade and progress hops, flagon pale ale malt, rye crystal malt, Munich malt and crystal malt. It has a red/auburn colour and a distinctive spiced and peppery aroma of vine fruits, with a pleasant woody flavour.
The title for the new ale was the brainchild of Will Sargent, a farmer from Morningthorpe, Norfolk, winner of an NFU competition to name the beer. His prize was £100 to spend at St Peter's Brewery, as well as a case of the centenary beer.
The new ale will be available in East of England Co-op stores across the region, as well as independent retailers.