White Claw is the latest hard seltzer to reach the UK, made with sparkling water, triple distilled spirit and natural fruit.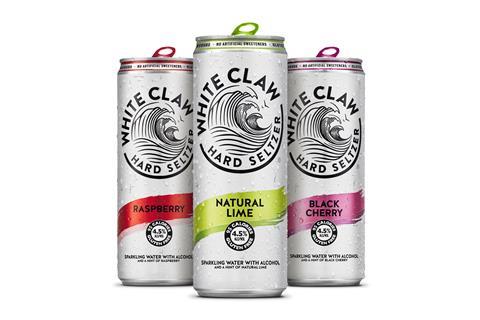 Available in three flavours - raspberry, black cherry and natural lime - White Claw has an abv of 4.5% is gluten-free, has no artificial sweeteners and contains only 95 calories per 330ml can. The rrp is £2.50.
The product is being listed in the multiple sector from 1 June, but UK distributor Mark Anthony International is now starting to focus on the cash and carry and wholesale channels.
Davin Nugent, ceo of Mark Anthony Brands International says: "We are delighted to launch White Claw Hard Seltzer in the UK, the brand's first market outside of North America. Making the decision to come here was an easy one, as consumers familiar with the brand in America have made sure to have their voices heard on our social media channels; demanding we bring White Claw to these shores.
"UK retailers have also been hugely supportive of our plans as we seek to lead the development of an entirely new category in alcohol beverage, just as we have done in the US."
The hard seltzer category is experiencing strong growth in North America, with total sales increases of 240% in 2019, achieving over 80m cases with a market value of over $2.5 billion. White Claw Hard Seltzer has an almost 60% market share in the US, the company states.